Case Study: Creating a Modern Open Concept Office with Efficient Furniture Solutions in Vancouver, BC
The end result was a functional and stylish office space, tailored to the client's needs and ready to support their business endeavors.
Open Area with 14 Workstations (3-Pods)
Three Private Offices
Open Loft Area Training Room
Reception Area
Boardroom
Task, Client, and Lounge Seating
Training Chairs with Foldable Tablet Arms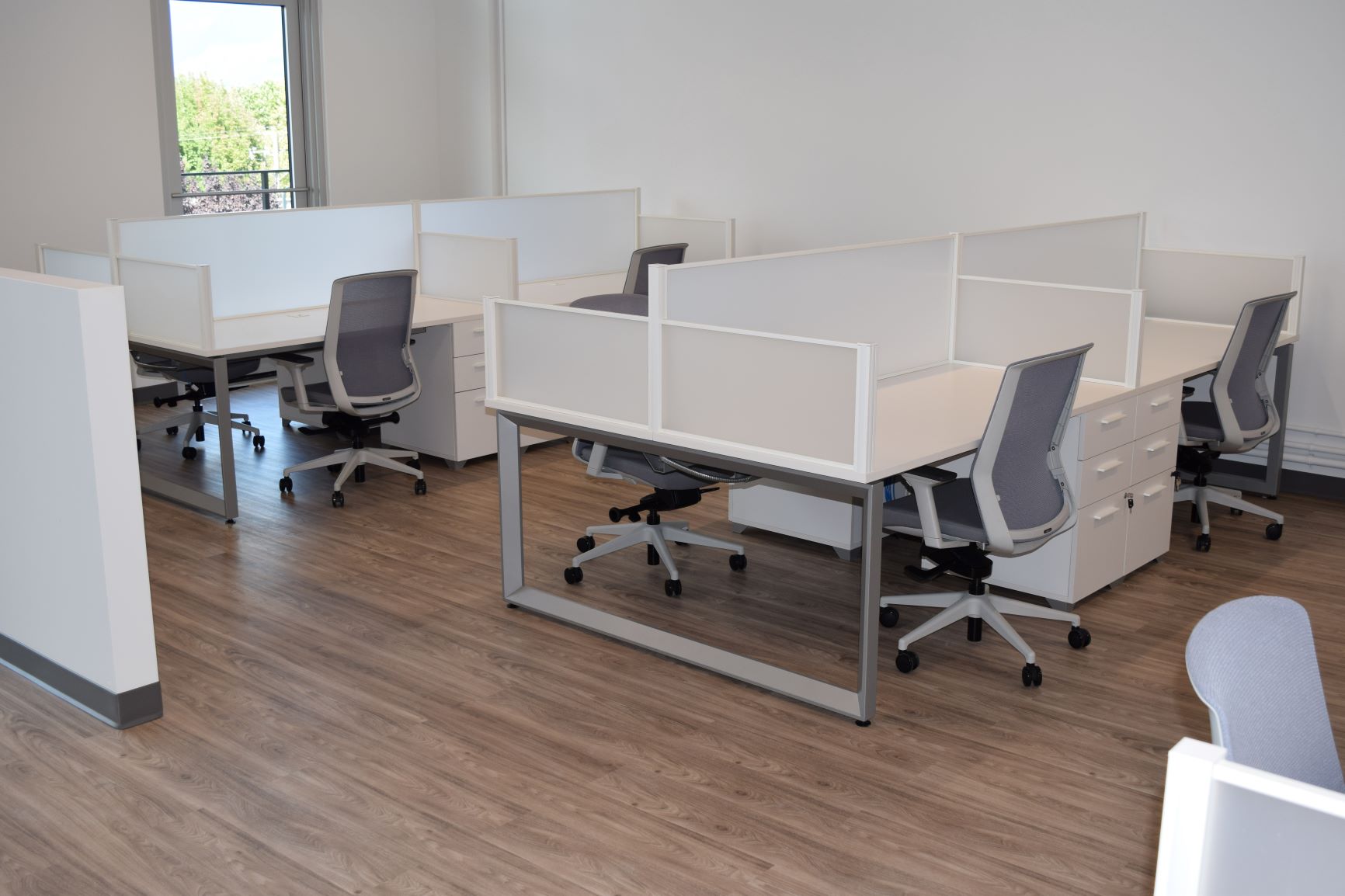 Premier Office Interiors partnered with an esteemed early childhood education client in Vancouver, BC to design and furnish their head office, crafting a captivating open concept space that prioritized natural light, boasted high ceilings, and featured a dedicated loft area for training sessions. Leveraging our profound understanding of office furniture solutions, we seamlessly equipped the entire office with exquisite furnishings, all within a demanding timeline, guaranteeing its timely completion for the client's relocation.
For this project, we carefully selected furniture pieces that aligned with the client's desire for a clean and modern aesthetic. Opting for a white laminate finish with sleek silver legs, we created a contemporary vibe throughout the office.
To enhance the overall look and provide necessary privacy, we incorporated frosted glazing into the workstation areas.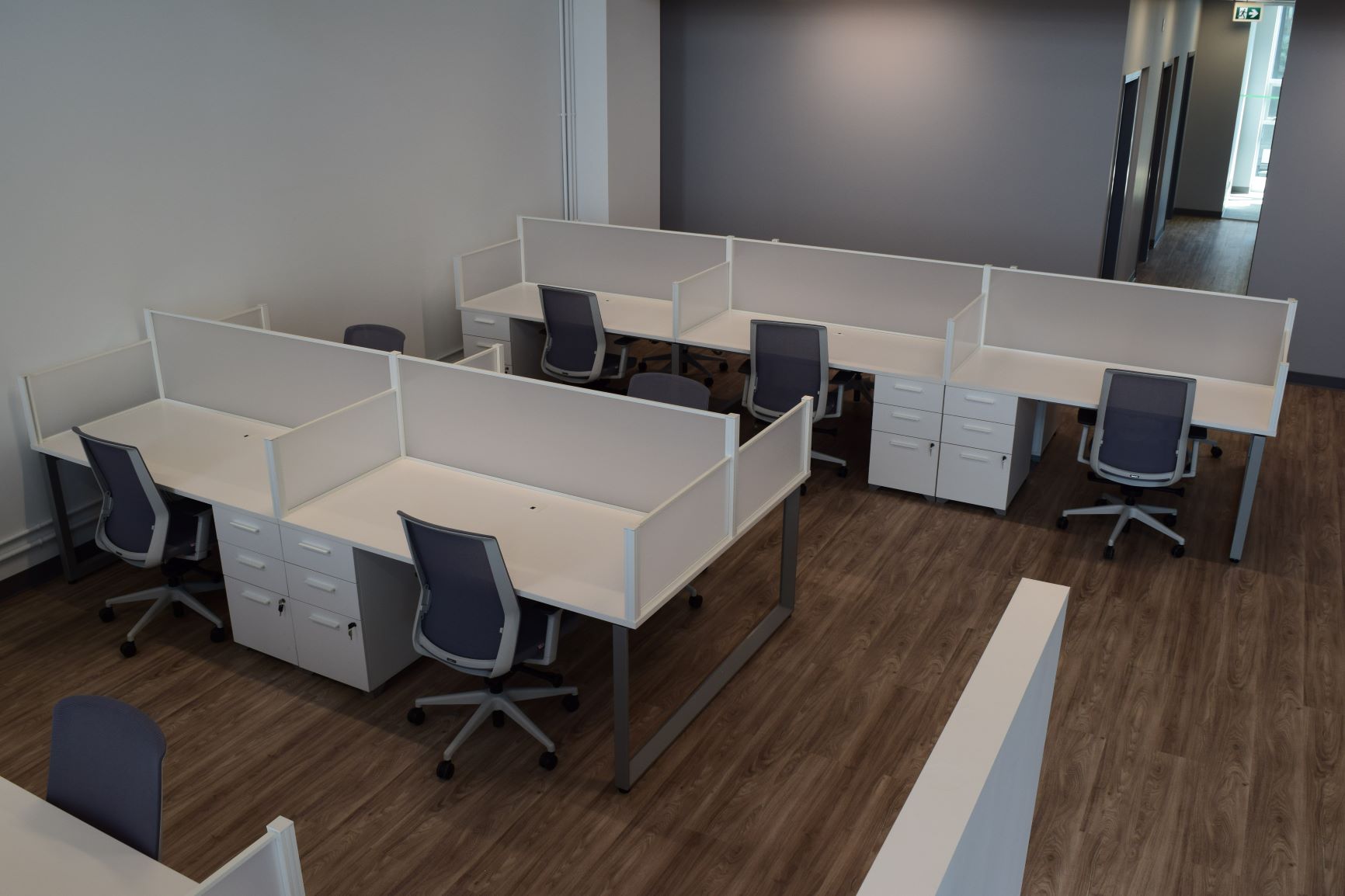 This combination of elements resulted in a visually appealing and functional office environment.
Our team executed the installation process with efficiency, meeting the client's requested completion date. Through careful planning and coordination, we successfully furnished the entire office within two days, ensuring a seamless transition for the client. The office space was transformed into a functional and stylish workplace, ready for the client and their team to embark on their professional journey.
Key Furniture Specifications
Open Office with 14 Workstations:
The open office area accommodates 14 workstations, each equipped with frosted glazing for privacy and a pedestal for storage. Additionally, we implemented an integrated system electrical setup to facilitate efficient connectivity and powering of various devices.
Three Private Offices with Work Tables and Storage: To meet the client's requirements, we provided three private offices with spacious work tables and ample storage solutions.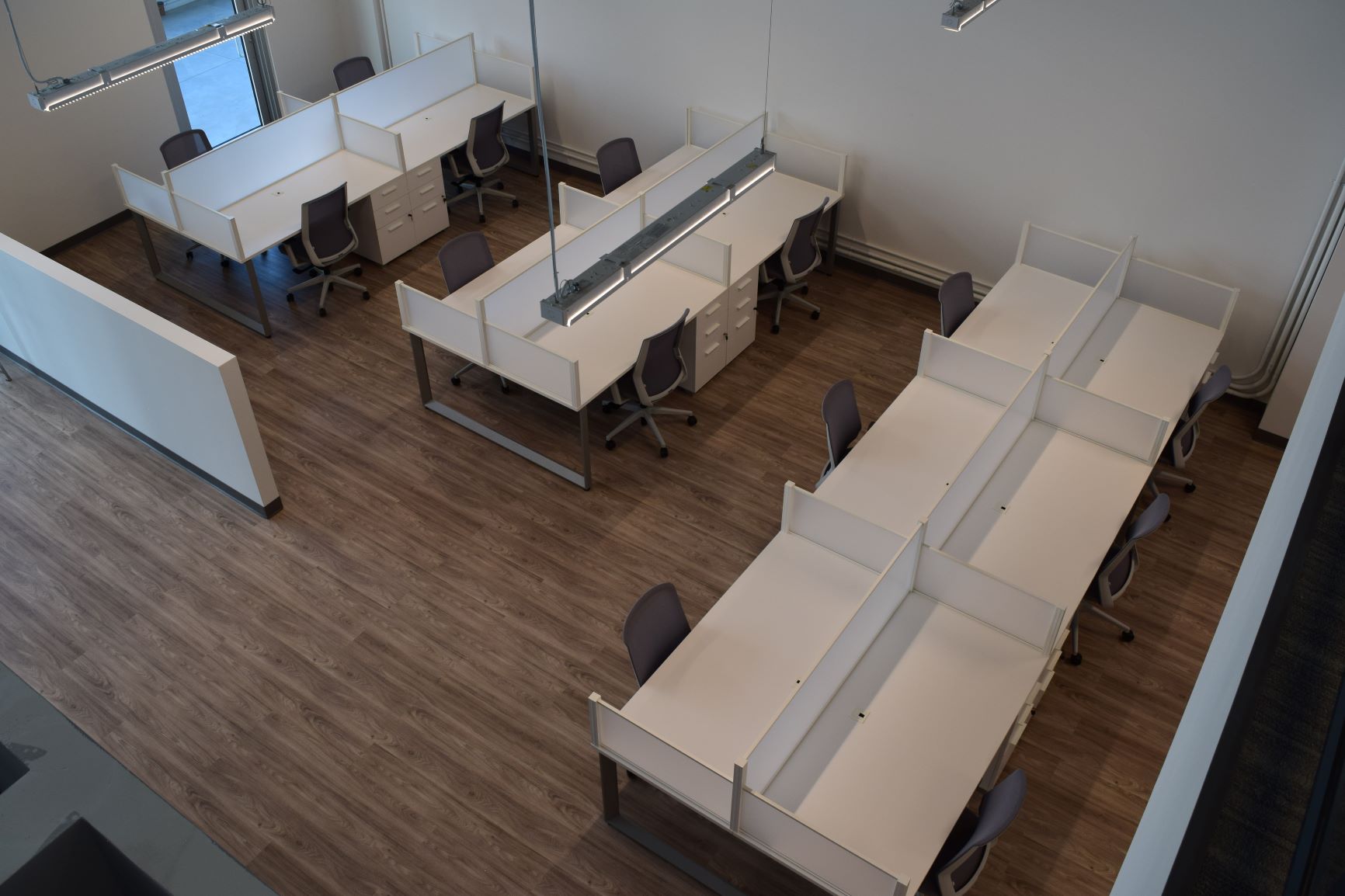 This setup allows for a private and focused working environment while maintaining a cohesive aesthetic with the overall office design.
Ergonomic Task Chairs:
Light grey ergonomic task chairs were carefully chosen to complete the look and provide ergonomic support. These chairs contribute to the modern aesthetic while prioritizing comfort and well-being for the office occupants.
Training Chairs with Foldable Tablet Arms: The loft area designated for training purposes features training chairs with foldable tablet arms.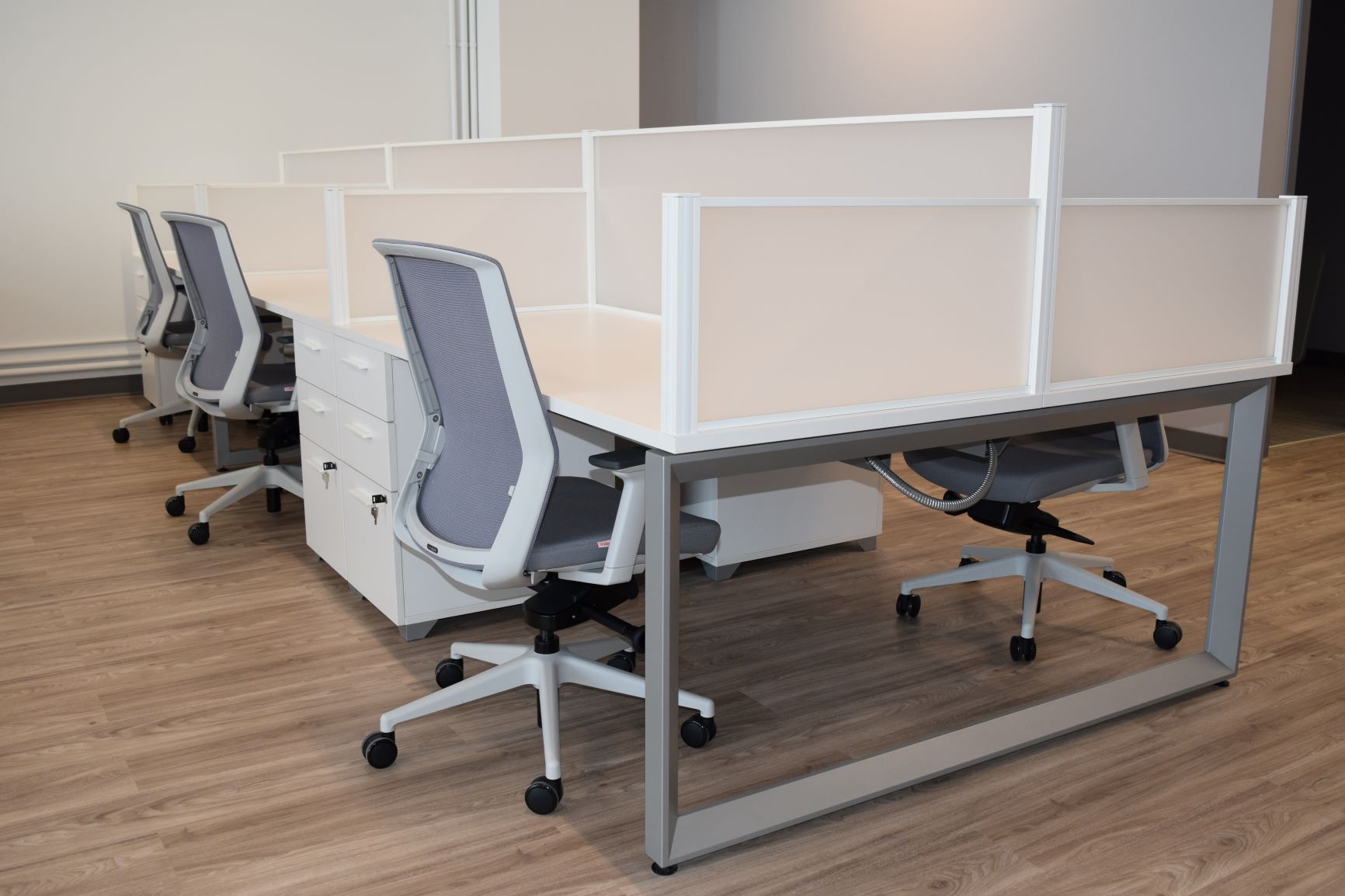 These versatile chairs offer ease of use and enhance comfort during training sessions.
Custom-Built Boardtable: To accommodate the client's specific requirements for boardroom meetings, we constructed a custom-built boardtable. This table was tailored to the client's specifications, incorporating features such as table-top power outlets and wire management solutions. These additions ensured a clean and organized appearance while providing convenient access to power sources during meetings and presentations.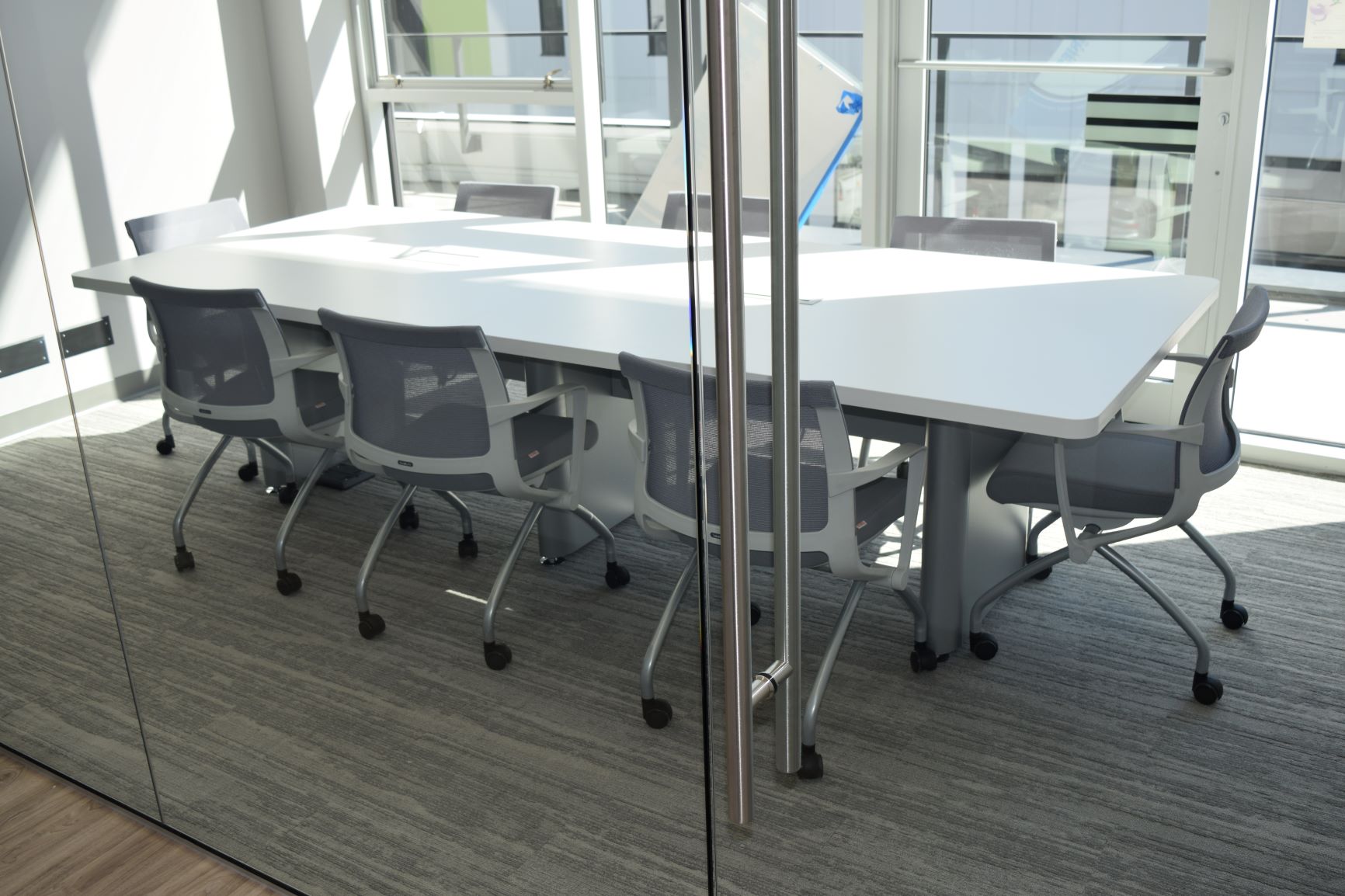 Through effective collaboration and efficient execution, Premier Office Interiors successfully furnished the client's open concept office with a modern and clean aesthetic in Vancouver, BC. The selected white laminate finish with silver legs, complemented by frosted glazing, created a visually appealing environment that met the client's requirements. Our installation team worked diligently to ensure the office was ready for the client's move-in date, completing the project within the designated two-day timeframe. The end result was a functional and stylish office space, tailored to the client's needs and ready to support their business endeavors in Vancouver, BC.
~ Click through the slideshow to view more images. ~
Looking to optimize your space and select the right furniture?
Count on us for professional guidance!
By consulting with one of our office furniture experts we will ensure you choose the best furniture solution for your specific needs.
Our Latest Articles To Help You With Your Office Furniture Investment.

103 – 8623 Granville St. Vancouver, B.C. V6P 5A2 - By Appointment Only
© 2023. All rights reserved.
Subscribe to get latest furniture blogs & news from us.