Case Study: Efficient Office Space Optimization for a Vancouver Accounting Firm
The choice to opt for desk-top mounted privacy panels not only saved valuable space but also contributed to an open and airy atmosphere within the confined area, resulting in a highly functional and aesthetically pleasing workspace.
An accounting firm based in Vancouver, BC, embarked on a strategic office relocation to accommodate their evolving team and business needs. While most of their existing furniture was relocated, a portion of their new office required a creative furniture solution to effectively utilize a smaller space while maintaining functionality, privacy, and a modern aesthetic.
The key challenge faced by the accounting firm was the need to accommodate a portion of their team in a reduced office space without compromising on privacy and productivity.
The challenge was twofold: fitting the required number of workstations and creating a layout that ensured privacy for each workstation within the confined area.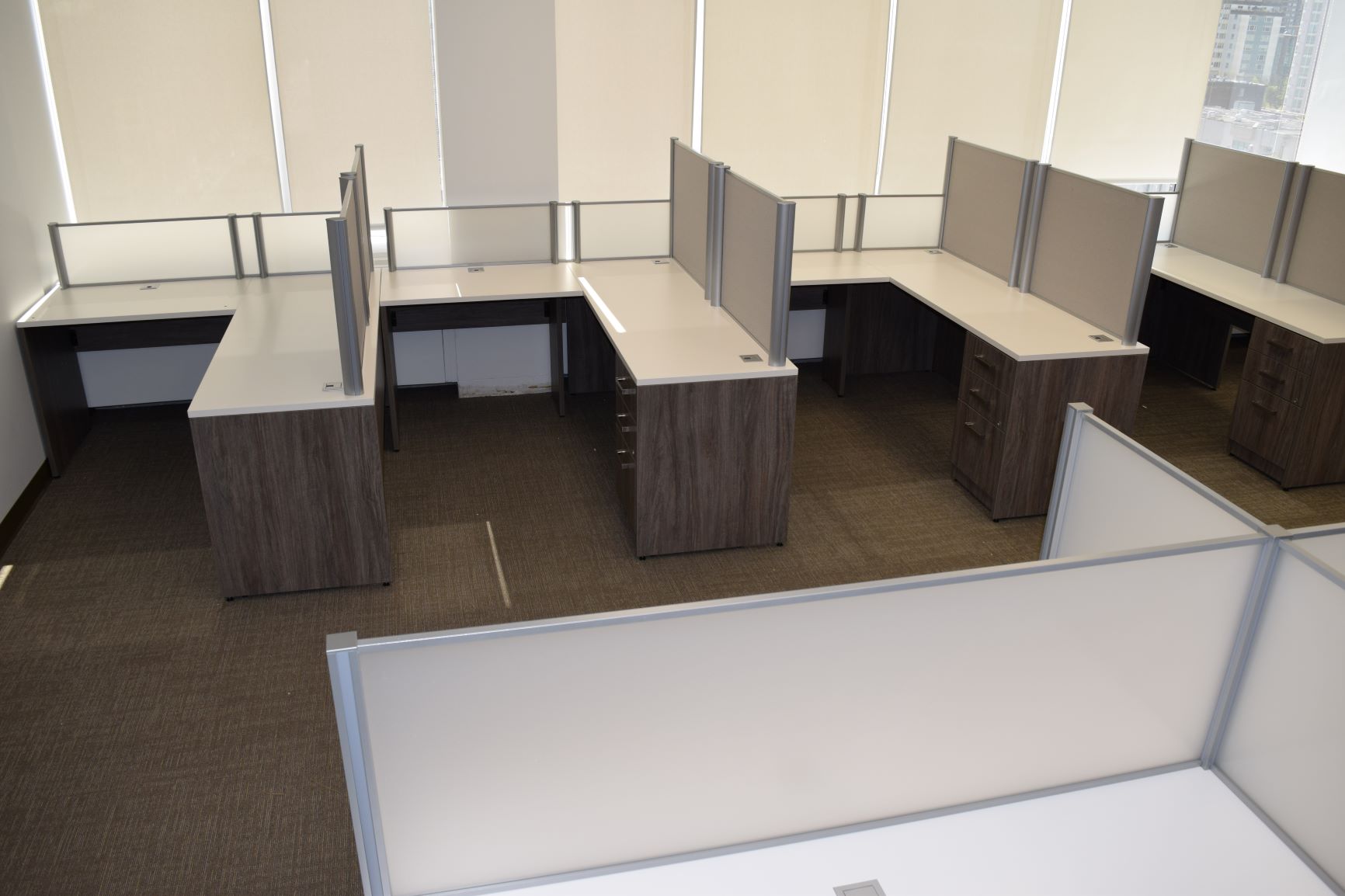 We collaborated closely with the accounting firm to devise an innovative solution that not only addressed the space constraints but also aligned with the firm's modern and professional image.
Space Optimization and Privacy Enhancement
To maximize space and maintain privacy, the decision was made to implement a desk-top mounted privacy panel system instead of traditional floor-based panels. This strategic choice saved nearly a foot of space and allowed for a more efficient layout. The desk-top mounted privacy panels effectively delineated individual workspaces while also promoting a sense of privacy and focus.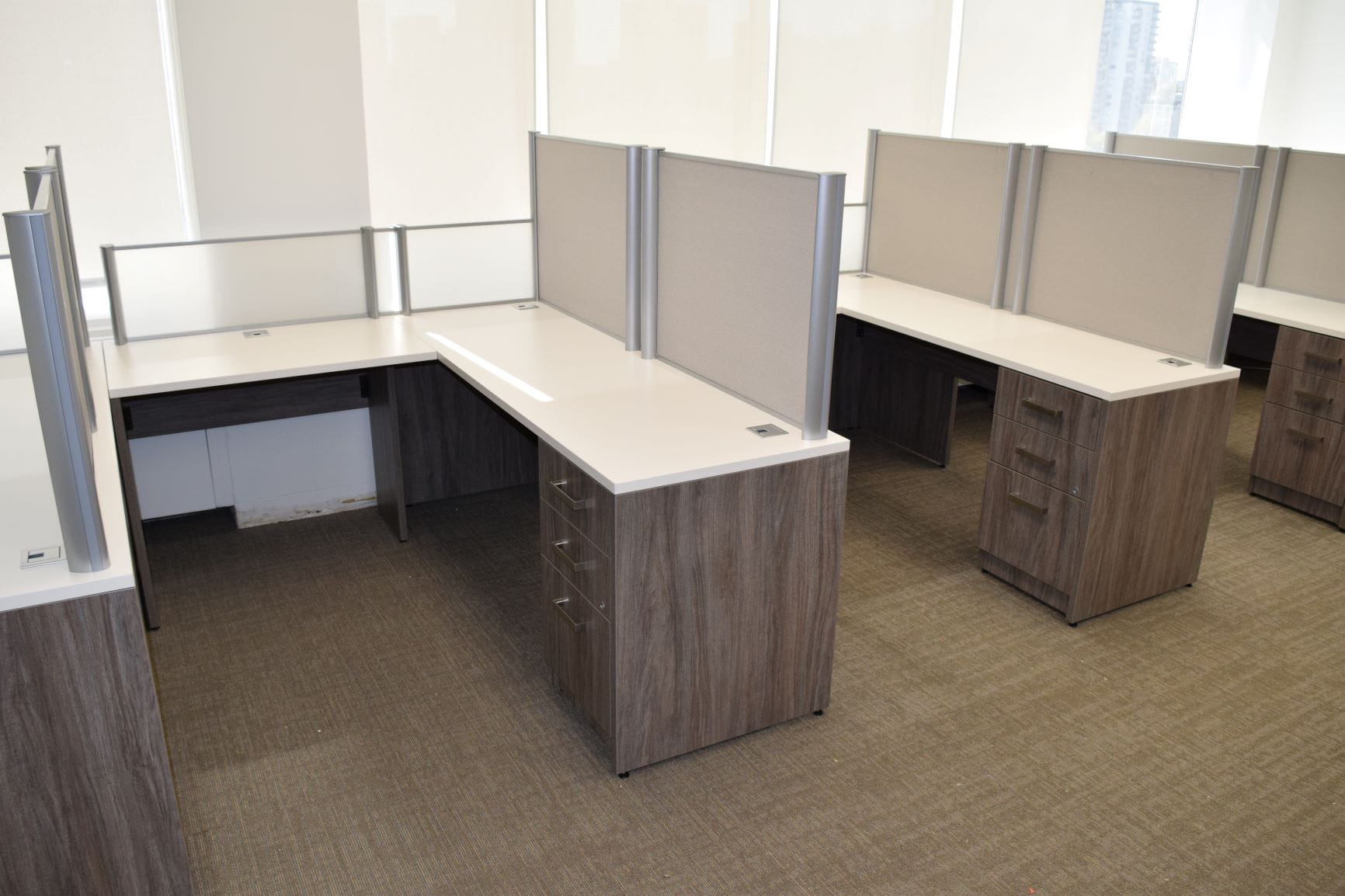 Modern Aesthetic with Functional Elements
The design concept for the new office space focused on creating a modern and welcoming environment. White worksurfaces, a light woodgrain base, and frosted glazing were seamlessly integrated to establish a contemporary ambiance. Beige desk-top privacy screens were strategically chosen to complement the overall aesthetic while adding a touch of sophistication.
The result of the collaborative effort was a highly functional and aesthetically pleasing workspace that effectively addressed the challenges of space optimization and privacy requirements.
The project included five workstations positioned along the window, each featuring desk-top mounted privacy panels that ensured a sense of personal space and concentration.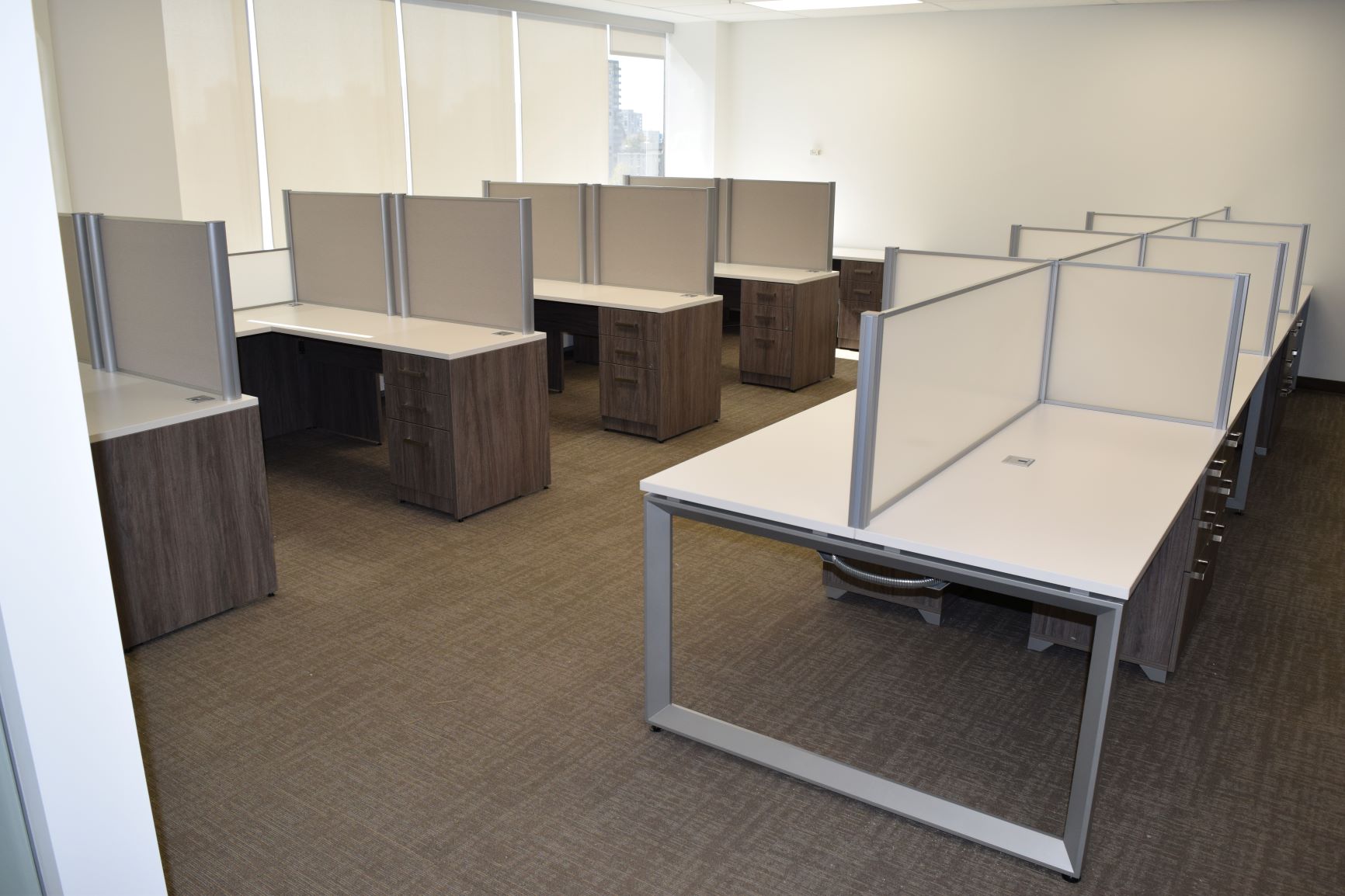 In addition, a benching pod was introduced to accommodate eight team members, further promoting collaboration and interaction.
The choice to opt for desk-top mounted privacy panels not only saved valuable space but also contributed to an open and airy atmosphere within the confined area. The cohesive design elements, including the modern color palette and elegant privacy screens, underscored the firm's commitment to professionalism and contemporary design.
Through a strategic combination of innovative furniture solutions and thoughtful design, the accounting firm successfully transformed a smaller office space into a harmonious and productive environment. The case study exemplifies the power of collaboration and creativity in overcoming challenges and creating functional yet appealing workspaces that cater to the unique needs of each client.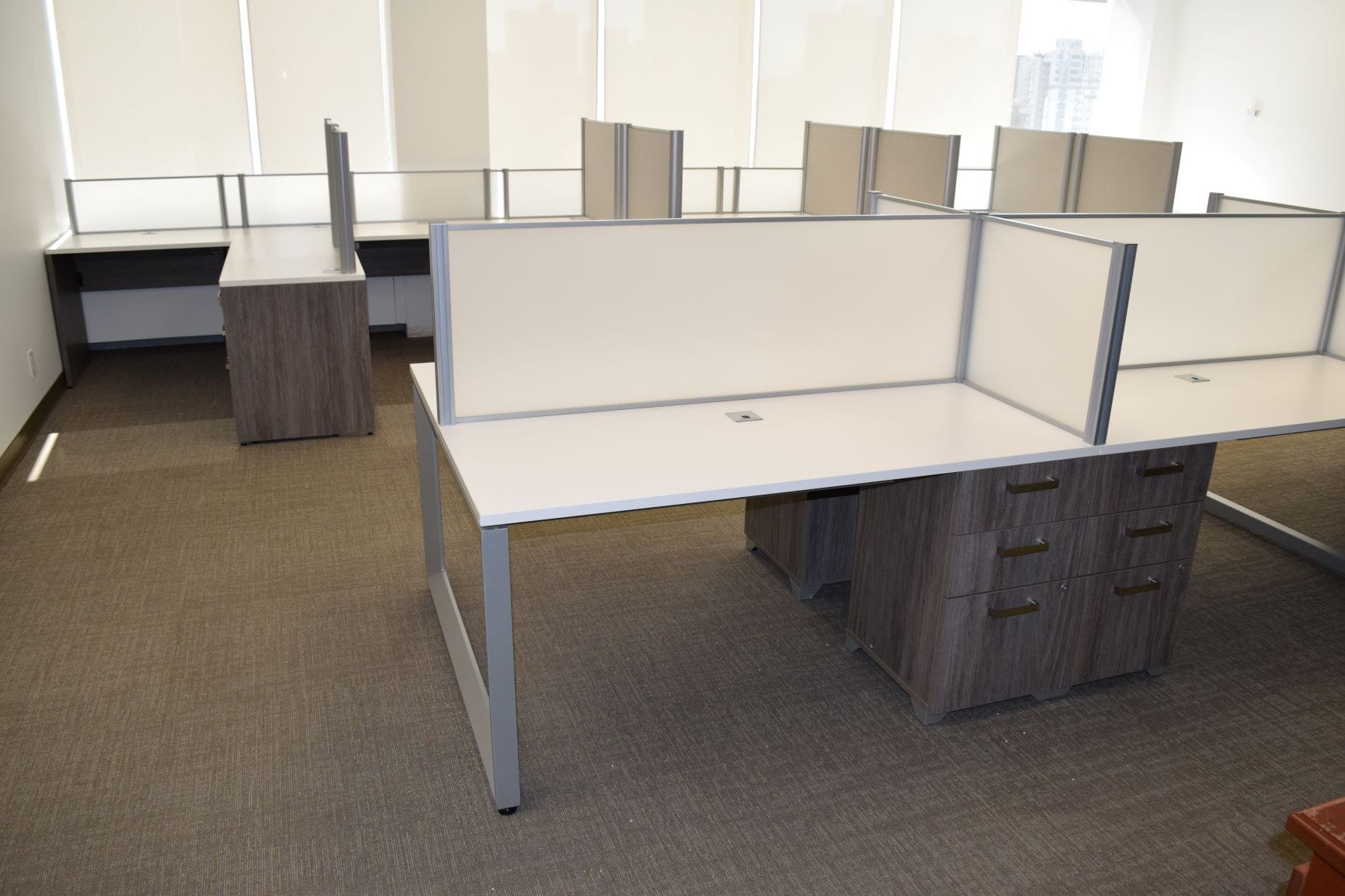 Looking to optimize your space and select the right furniture?
Count on us for professional guidance!
By consulting with one of our office furniture experts we will ensure you choose the best furniture solution for your specific needs.
Our Latest Articles To Help You With Your Office Furniture Investment.
The Ultimate Guide to Expanding, Moving, or Upgrading Your Office: A Comprehensive Resource for Office Furniture Transformation
The Ultimate Guide to Expanding, Moving or Upgrading Your Office is a comprehensive resource that provides practical tips, expert advice, and real-life case studies for businesses looking to transform their office spaces.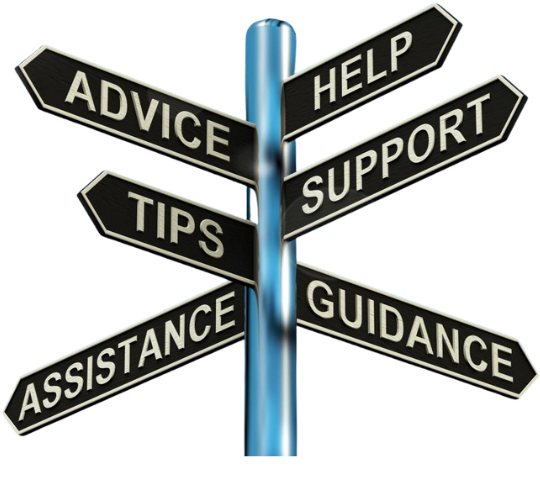 103 – 8623 Granville St. Vancouver, B.C. V6P 5A2 - By Appointment Only
© 2023. All rights reserved.
Subscribe to get latest furniture blogs & news from us.