Smart Office Makeover: Budgeting for Office Furniture and Cost-Effective Strategies
This guide explores the tips to furnishing your office with style and efficiency without breaking the bank. We delve into practical strategies that cater to small business owners, entrepreneurs, and companies seeking cost-effective solutions.
Office furniture plays a pivotal role in shaping productivity and employee morale, making budgeting an essential aspect of the process. Throughout this article, we'll emphasize the importance of balancing cost-effectiveness with quality, ensuring your workspace becomes a hub of creativity and collaboration. With a focus on valuable tips and tricks, we unlock the potential of finding the best budget-friendly furniture without compromising on functionality or aesthetics.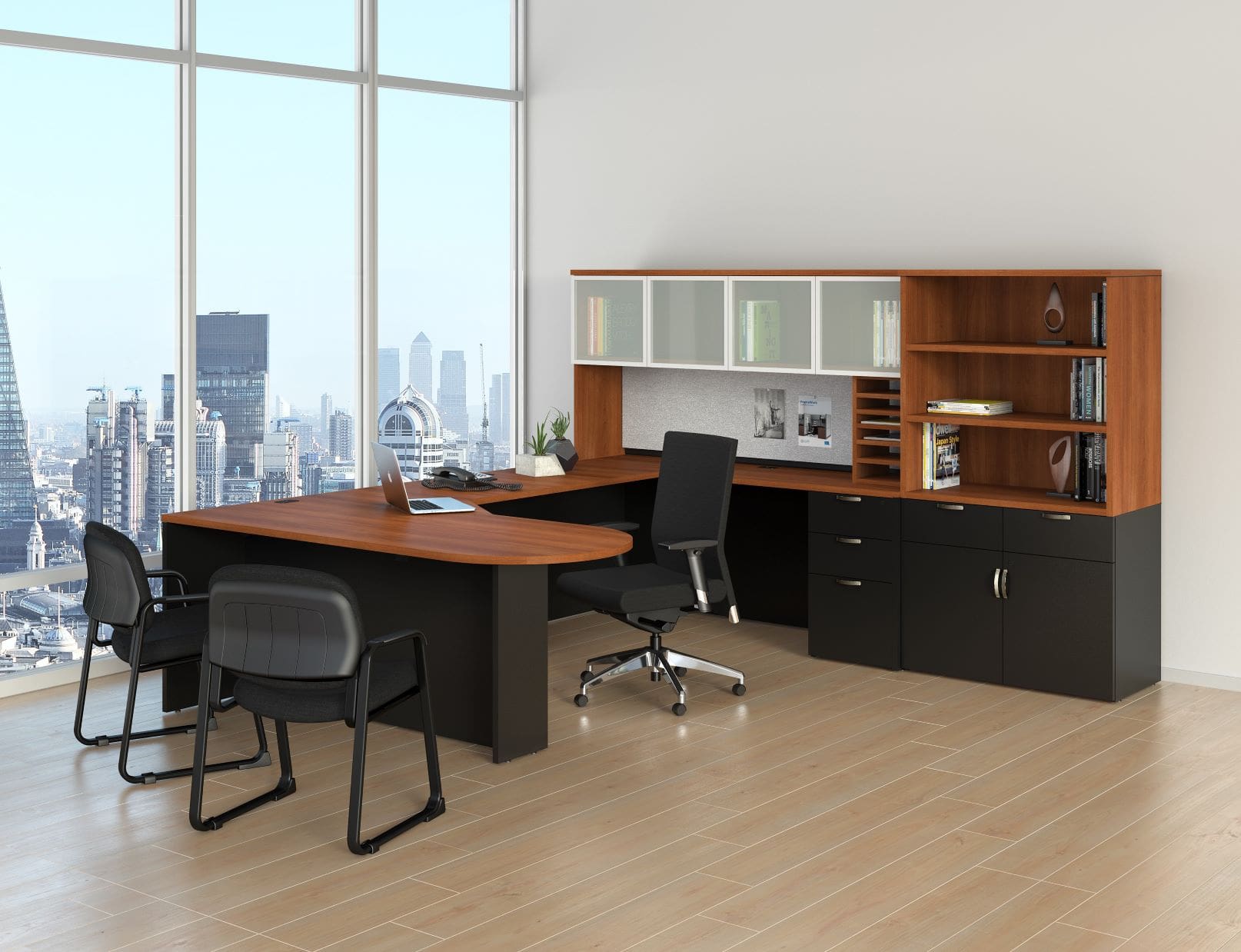 From exploring second-hand markets to capitalizing on discounts, our comprehensive approach aims to empower you to make informed design decisions.
So, are you ready to transform your office into an inspiring, vibrant space? Join us as we embark on a smart office makeover and discover how to elevate your workspace without exceeding your budget.
Understanding Your Office Furniture Needs
Office design is a critical aspect that significantly impacts productivity and employee morale. A well-furnished workspace can foster creativity, collaboration, and overall satisfaction among team members. However, budgeting for office furniture can be challenging, especially for small business owners, entrepreneurs, and companies in transition.
Understanding your office furniture needs is the foundation of a successful makeover. Begin by assessing your specific requirements and identifying essential furniture items crucial for daily operations.
Distinguish these must-have pieces from those that can be prioritized for future acquisition, ensuring a well-balanced approach to furnishing your office.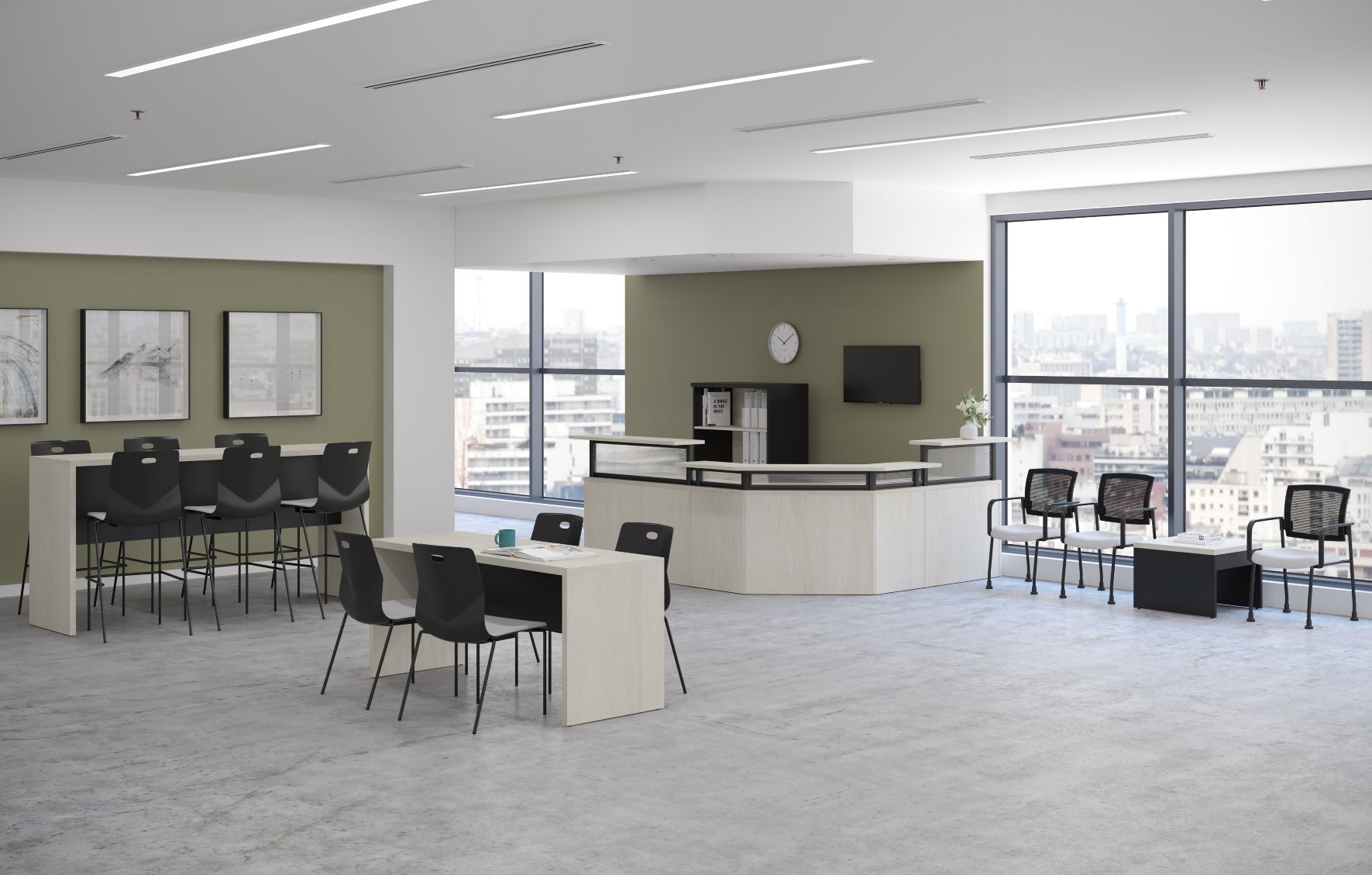 When considering your office furniture needs, take into account various factors that influence your choices. Start by analyzing your office layout and envisioning an arrangement that optimizes space utilization and facilitates smooth workflow. Prioritize ergonomic needs by investing in furniture that supports employee well-being and comfort, which can lead to increased productivity and reduced health issues.
Storage requirements are often overlooked, but maintaining an organized workspace is vital.
Explore smart storage solutions that keep office supplies and documents readily accessible, promoting an efficient and clutter-free environment.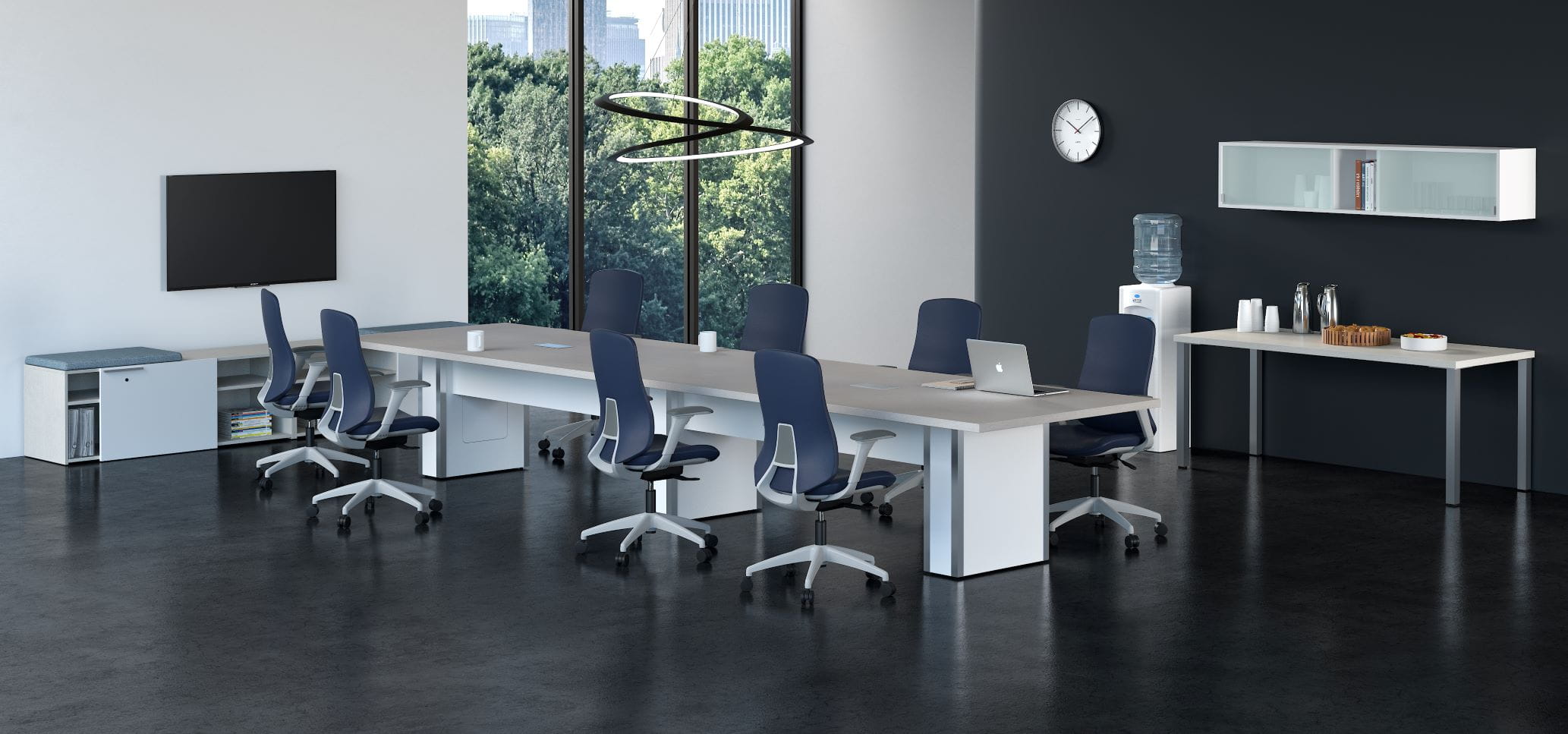 Crafting a cost-effective office furniture wishlist is where your creativity and budget-consciousness come together. Focus on identifying key furniture pieces that align with your budget constraints without sacrificing quality. Quality furniture doesn't always need to come with a high price tag, so be diligent in your search and consider options like second-hand markets or discounts.
Exploring Budget Furniture Options
In office design, budgeting for furniture can be challenging, especially for small business owners, entrepreneurs, and companies on the move. Fortunately, various cost-effective strategies can transform your workspace without compromising style or functionality.
One avenue worth exploring is the allure of second-hand furniture. Local thrift stores and online marketplaces offer hidden gems at a fraction of the price of new pieces. However, inspecting for wear and tear is crucial to ensure you invest in quality items.
For the creatively inclined, DIY furniture projects provide a fantastic opportunity to repurpose and upcycle existing pieces.
From repainting desks to transforming old cabinets, these projects add a personal touch to your office while saving money.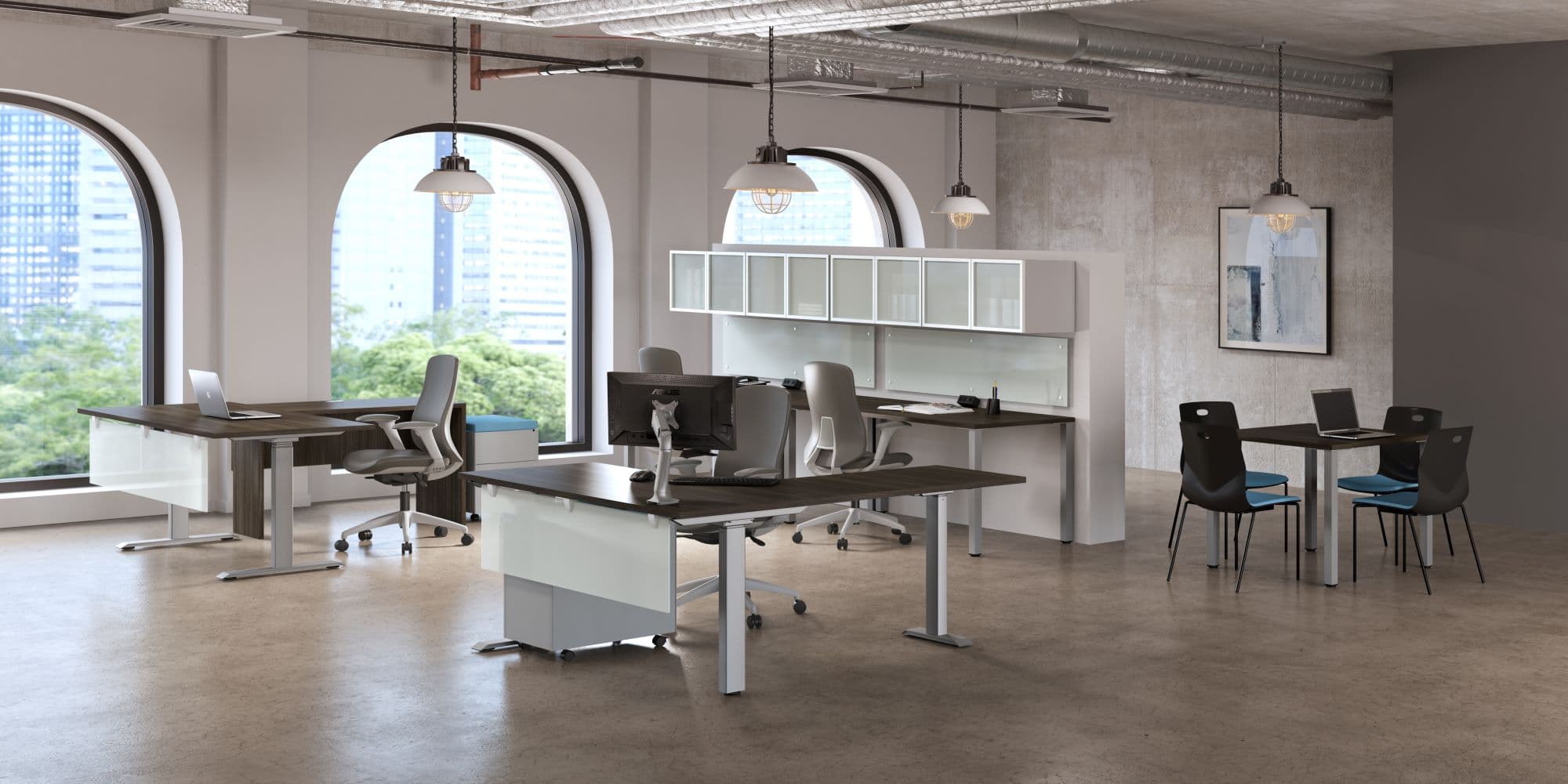 Affordable new furniture options abound for those who prefer a fresh start. Keep an eye out for seasonal sales, clearance events, and discounts from retailers online and in stores. Many manufacturers offer budget-friendly lines that maintain quality and style.
Modular furniture is a game-changer for smaller offices. These versatile solutions optimize space and adapt to your evolving needs. Investing in modular desks, storage units, and shelving systems proves to be both cost-effective and practical. By combining these small budget furniture options, you can create an inspiring and functional office space that resonates with your brand and enhances productivity.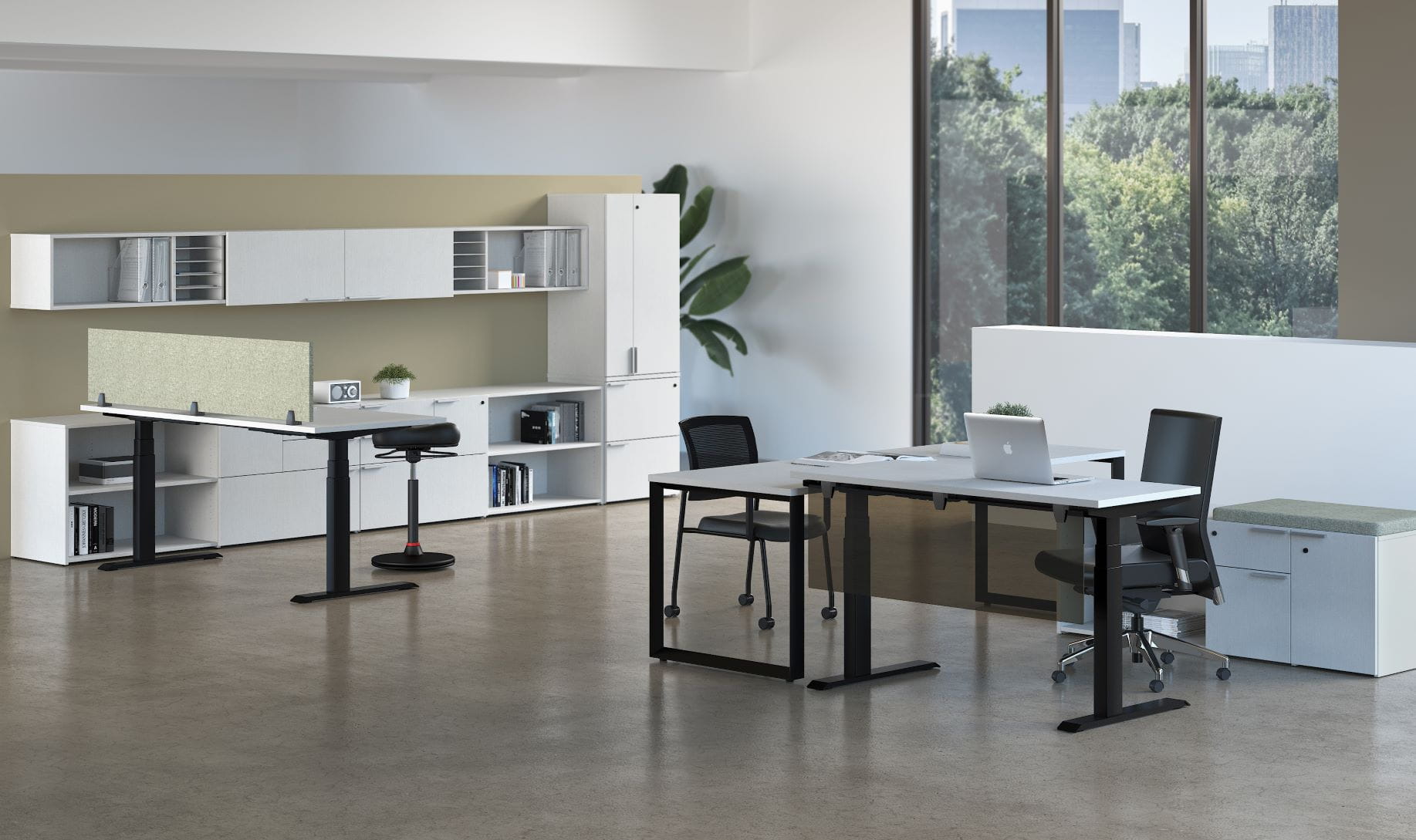 Embrace creativity and resourcefulness as you embark on your smart office makeover journey.
Sourcing Furniture on a Budget
Online marketplaces are a digital paradise of low budget furniture options. Browse through top platforms known for their variety and competitive prices. But remember, the key to success lies in being savvy with your search, comparing prices, and checking seller ratings for a seamless experience.
Timing is crucial when it comes to scoring incredible deals. Keep an eye on clearance sales and seasonal discounts hosted by furniture retailers. These events offer substantial price reductions on brand-new items, making it an excellent opportunity to save big on your office makeover.
For budget-conscious buyers, there's a secret to unlock. Consider buying in bulk to enjoy discounts and negotiate deals with suppliers. Many retailers, as well as wholesalers, offer cost-effective package deals that combine multiple furniture pieces, streamlining the procurement process while maximizing savings. For the adventurous spirits, local furniture auctions and estate sales are a treasure trove of affordable office furniture finds.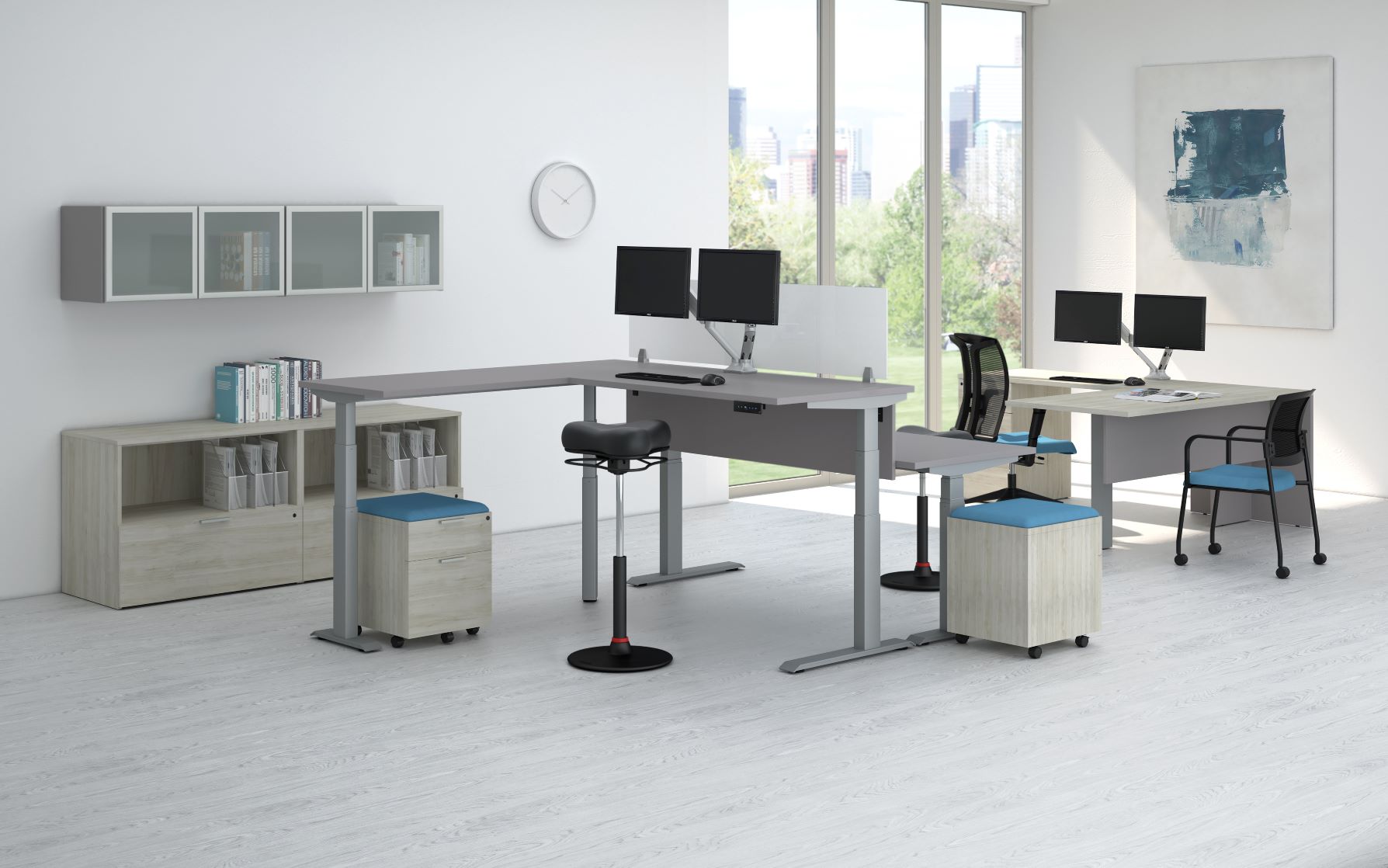 Discover unique and vintage pieces that perfectly align with your design vision. The thrill of uncovering hidden gems awaits!
Quality vs. Cost: Striking the Right Balance
Regarding a budget-friendly office makeover, striking the right balance between quality and cost is essential. Investing in durable office furniture can have long-term benefits that outweigh the initial cost. Higher-quality furniture not only stands the test of time but also contributes to employees' overall comfort and productivity, avoiding frequent replacements and maximizing the office's potential.
Identifying higher-quality furniture on a budget involves considering several factors. Look closely at the materials used and the construction of the furnishing. In laminate furniture, you want to look for a thermo-fused laminate with a PVC edge detail.
This laminate is durable and heat resistant and will stand the test of time. Additionally, reputable brands known for their commitment to craftsmanship and customer satisfaction can provide affordable yet durable options. To make informed decisions, leverage user reviews, ratings and read case studies. The experiences of other customers offer valuable insights into a product's performance, highlighting both its pros and cons.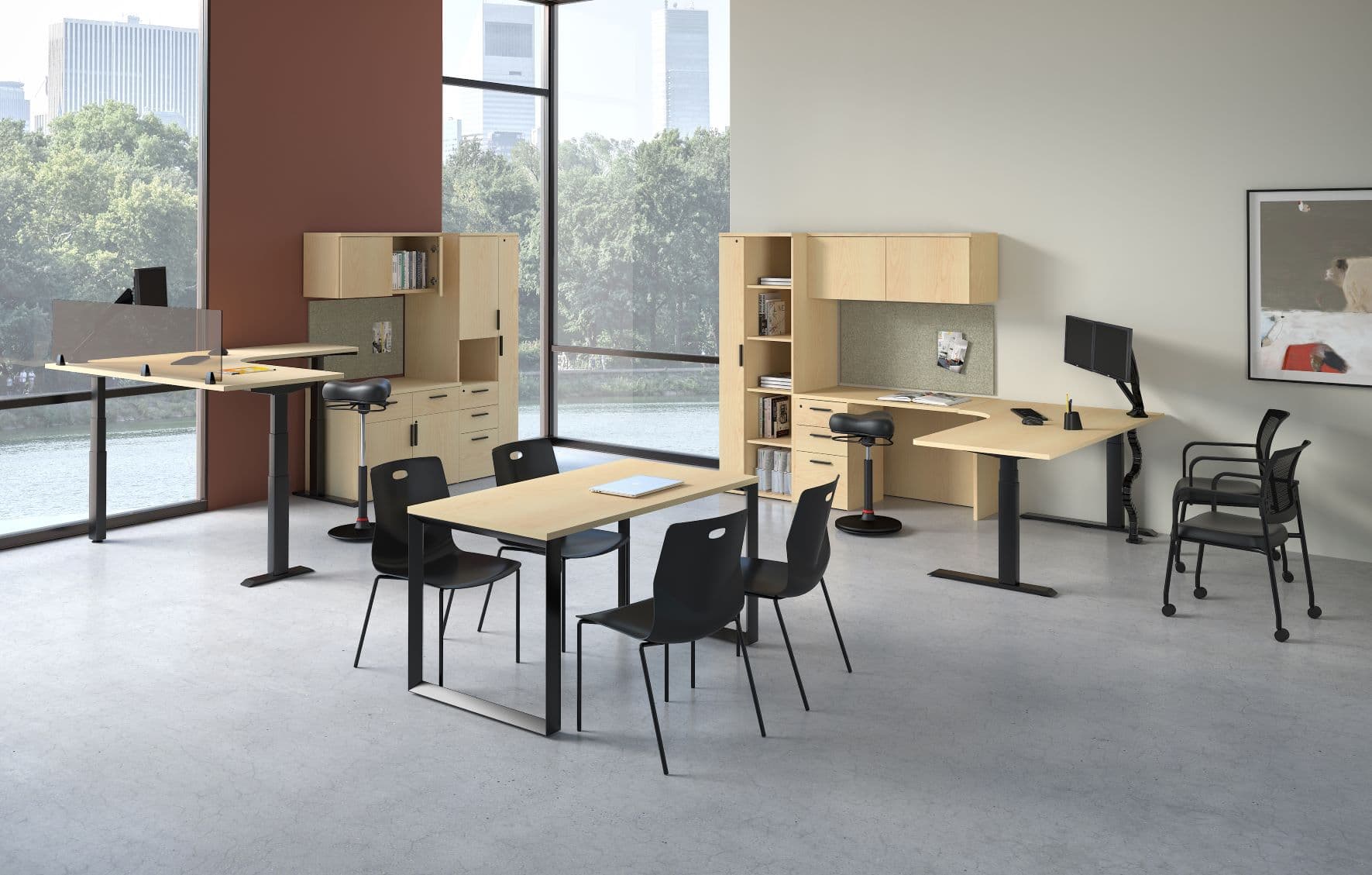 Patterns in testimonials can help you get a comprehensive understanding of a furniture piece's quality and usability.
Protect your investment with a comprehensive warranty and reliable after-sales support. Ensure that the furniture you choose comes with coverage for manufacturing defects and premature wear. Providing peace of mind, responsive customer service is crucial in resolving any issues that may arise after your purchase.
Maximizing Office Furniture Durability and Lifespan
Proper assembly and maintenance lay the foundation for furniture longevity. When that shiny new furniture arrives, take a moment to read the manufacturer's instructions carefully or consider using professional installers. Ensuring proper assembly guarantees stability and structural integrity, preventing any unfortunate surprises down the line.
Don't forget about regular maintenance either; a little TLC goes a long way in preventing premature wear and tear, preserving the beauty and functionality of your investments.
Employee well-being and productivity go hand in hand, and that's where the magic of ergonomics comes into play.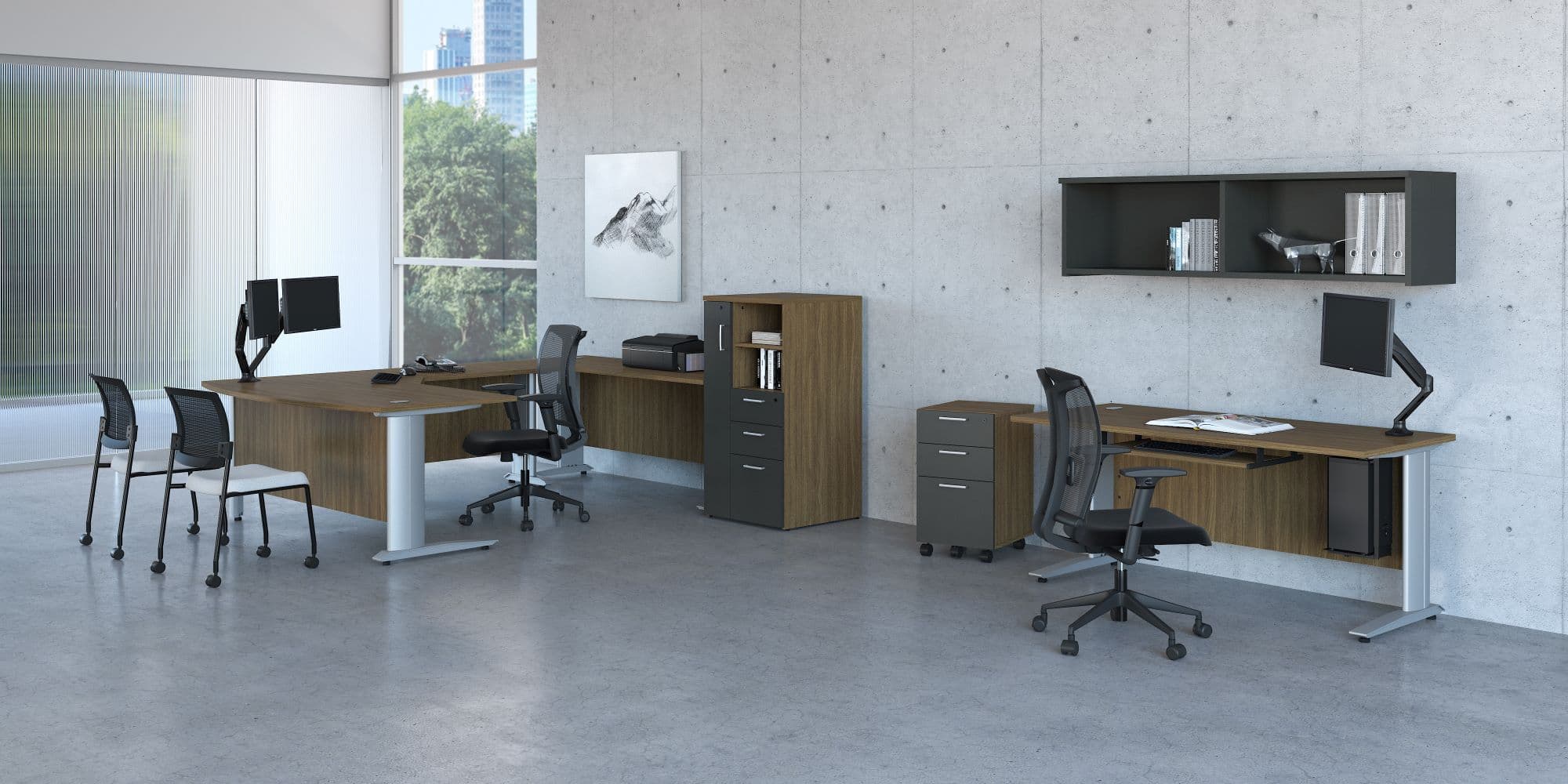 As you budget for office furniture, prioritize ergonomic options that support your team's natural posture. Look for budget-friendly ergonomic chairs with adjustable features and lumbar support, promoting comfort during long hours at the desk. Adjustable height desks are a game-changer, accommodating different working positions and contributing to a healthier and more efficient workspace.
Creating a Cohesive and Aesthetic Office Space
Transforming your office into a cohesive and aesthetic space doesn't have to be a daunting task, even on a budget. With the right strategies, you can achieve a workspace that reflects your brand's personality, fosters productivity, and leaves a lasting impression on clients and employees alike.
Budget-Friendly Office Decor
: Elevating the ambiance of your office doesn't require a hefty budget. Get creative with affordable decor options that add personality and flair.
Incorporate budget-friendly wall art, decorative accents, and greenery to bring life and vibrancy to your workspace.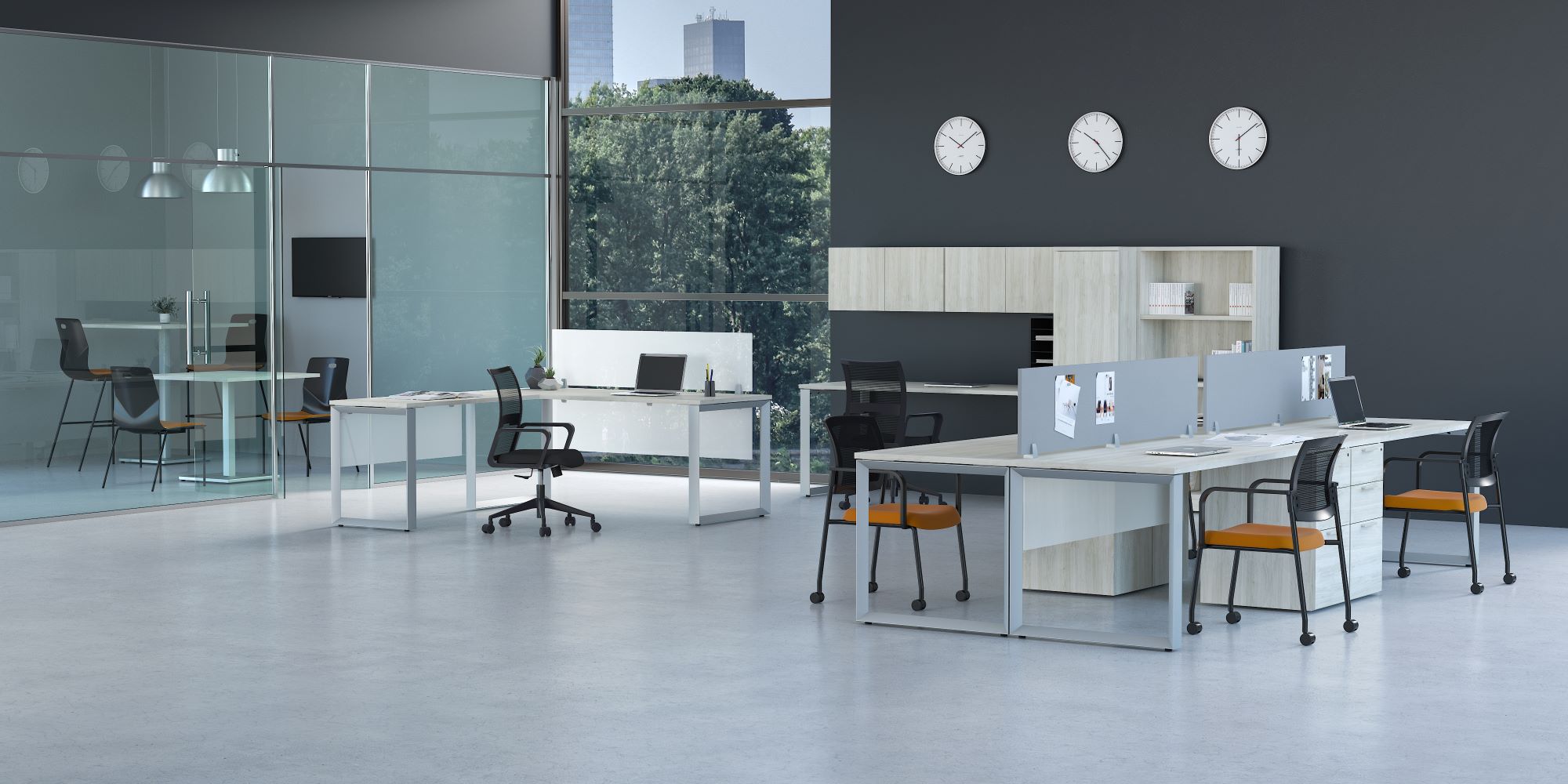 Second-hand stores can be a haven for unique pieces that align with your design vision, so embrace your inner treasure hunter and discover one-of-a-kind gems without overspending.
The Power of Colors and Lighting: Colours and lighting significantly impact the overall atmosphere of your office. A well-chosen colour scheme can set the mood and stimulate productivity. Consider accent walls or vibrant furniture pieces to make a bold statement without extensive painting. Additionally, optimize natural light to create a welcoming and energizing environment. Budget-friendly lighting fixtures can complement natural light, adding warmth and functionality to your space.
Utilizing Space-Saving Storage Solutions
: An organized office enhances productivity and aesthetics. Make the most of your office layout with space-saving storage solutions.
Choose multi-functional furniture, such as desks with built-in storage or floating shelves, to maximize vertical space and maintain a clutter-free environment.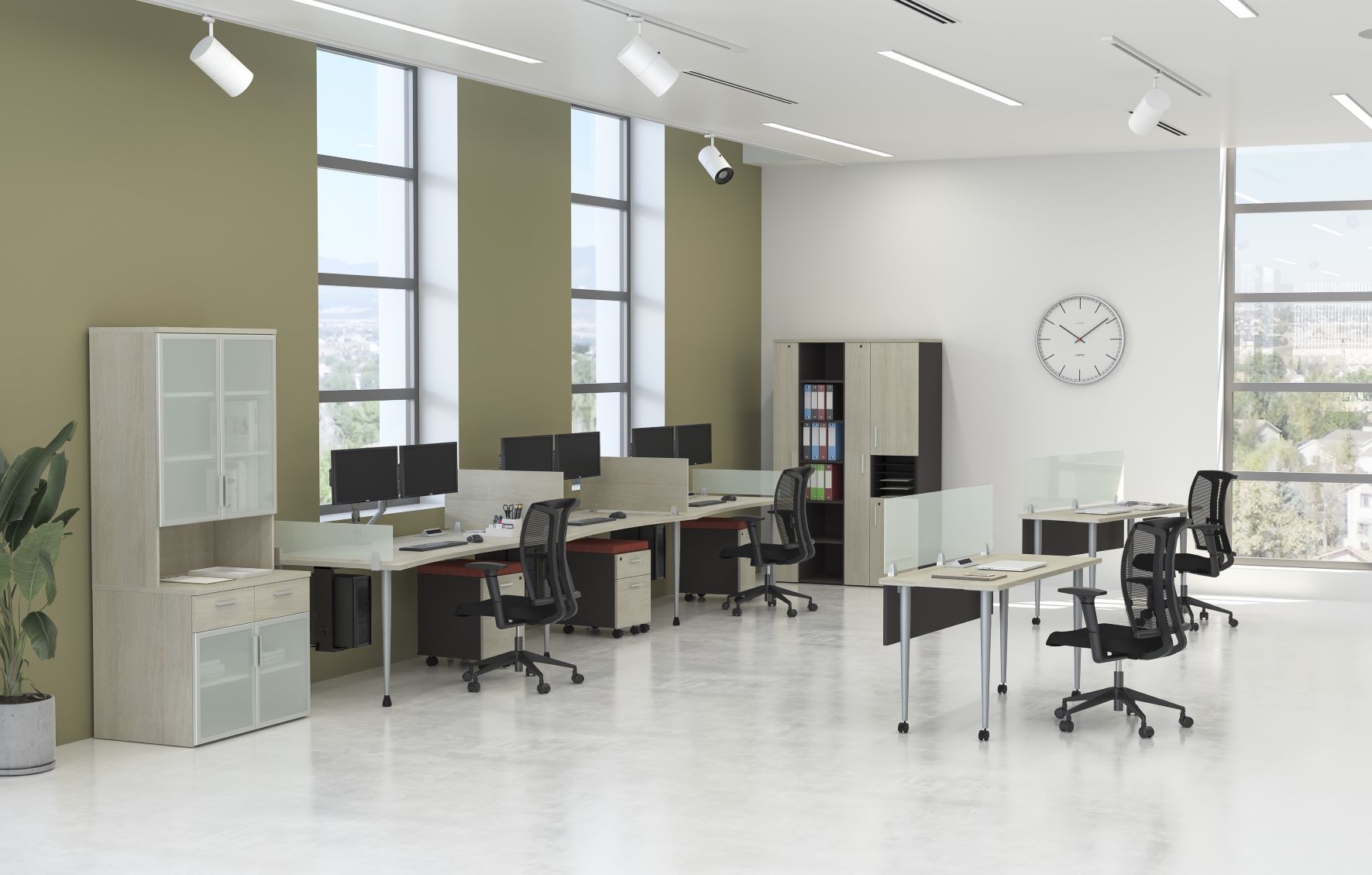 Budget-friendly storage containers and filing systems keep documents and supplies in order, contributing to a functional and efficient workspace.
In conclusion, a smart office makeover is within your reach, even on a budget. As you've discovered, budgeting for office furniture is essential for creating a functional and inspiring workspace. By embracing cost-effective strategies and exploring budget-friendly options, you can achieve a cohesive and aesthetic office space that reflects your brand's essence without compromising on style.
Let your office be a canvas for innovation, fostering creativity and productivity among your team.
Looking to optimize your space and select the right furniture?
Count on us for professional guidance!
By consulting with one of our office furniture experts we will ensure you choose the best furniture solution for your specific needs.
Our Latest Articles To Help You With Your Office Furniture Investment.

103 – 8623 Granville St. Vancouver, B.C. V6P 5A2 - By Appointment Only
© 2023. All rights reserved.
Subscribe to get latest furniture blogs & news from us.