Case Study: Office Furniture Solution for a North American Transport Company in Oakville, Ontario
We take pride in providing exceptional service and meeting the unique needs of our clients, regardless of their location.
Our client, a prominent North American transport company, sought to furnish their office located in Oakville, Ontario.
As a trusted provider of office furniture solutions, we were able to meet their needs despite being based in Vancouver, BC. With partnerships with installation companies across major cities in North America, we can effortlessly cater to our client's needs to furnish multiple office locations. This case study highlights our successful collaboration with this client and the furniture package we provided.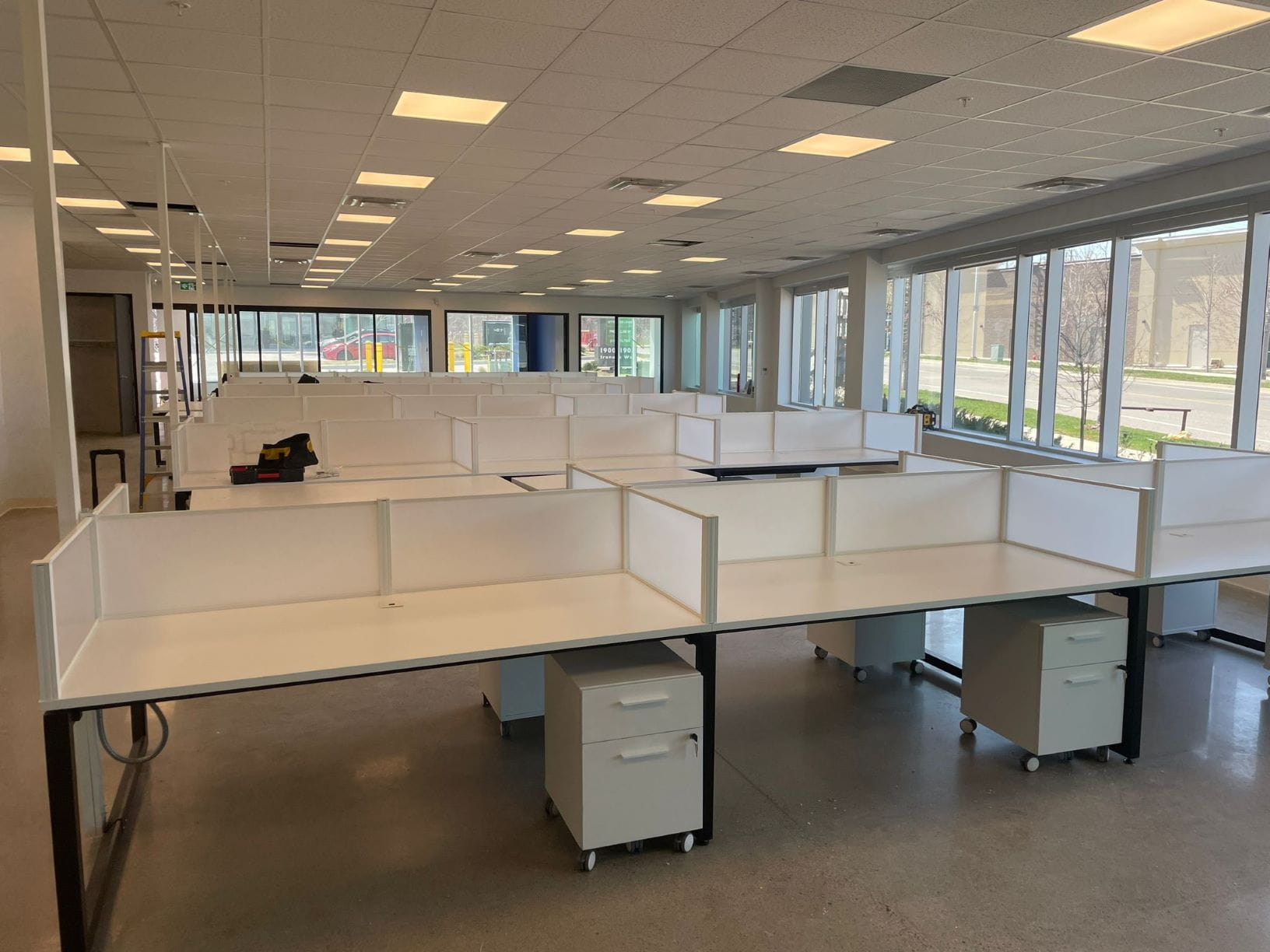 The client's office in Oakville consisted of seven private offices, a break room, a boardroom, and a dedicated "zoom room" for online meetings. Additionally, there was an open office area where we installed 34 benching workstations, organized into pods. To enhance privacy, each pod featured frosted surface-mounted glazing, measuring 12″ high.
For efficient storage, we incorporated mobile box/file drawer pedestals in each workstation and to manage wires and cables, a wire management trough was attached beneath every worksurface. This trough accommodated the systems integrated electrical which consisted of a power module and connector harnesses which run from trough to trough under each surface.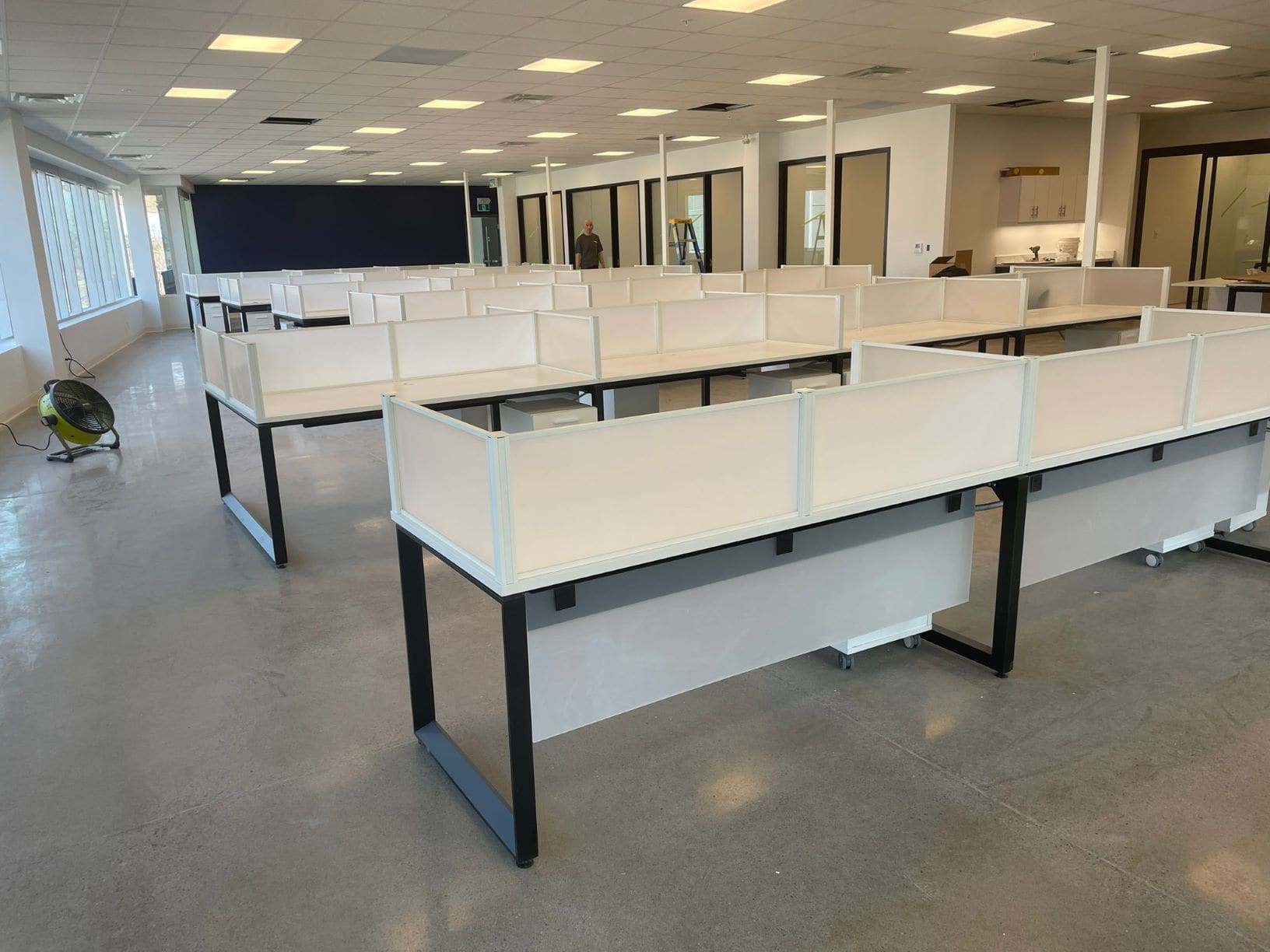 Finally, power poles connected the harnesses, allowing for hardwiring in the ceiling.
To align with the client's preference for a clean and modern look, we suggested an all-white laminate choice for the furniture. This selection complemented the office's concrete floors, creating a cohesive and contemporary atmosphere. The only non-white element on the workstations were the black legs, which completed the overall design.
Recognizing the importance of an efficient and engaging virtual meeting space, we designed a custom table for the client's zoom room. This table tapered down towards the back wall, where a screen was mounted. This layout enabled multiple participants to be actively involved in meetings, while ensuring visibility for those on the other side of the screen. The custom table served as a functional and visually appealing centerpiece for the zoom room.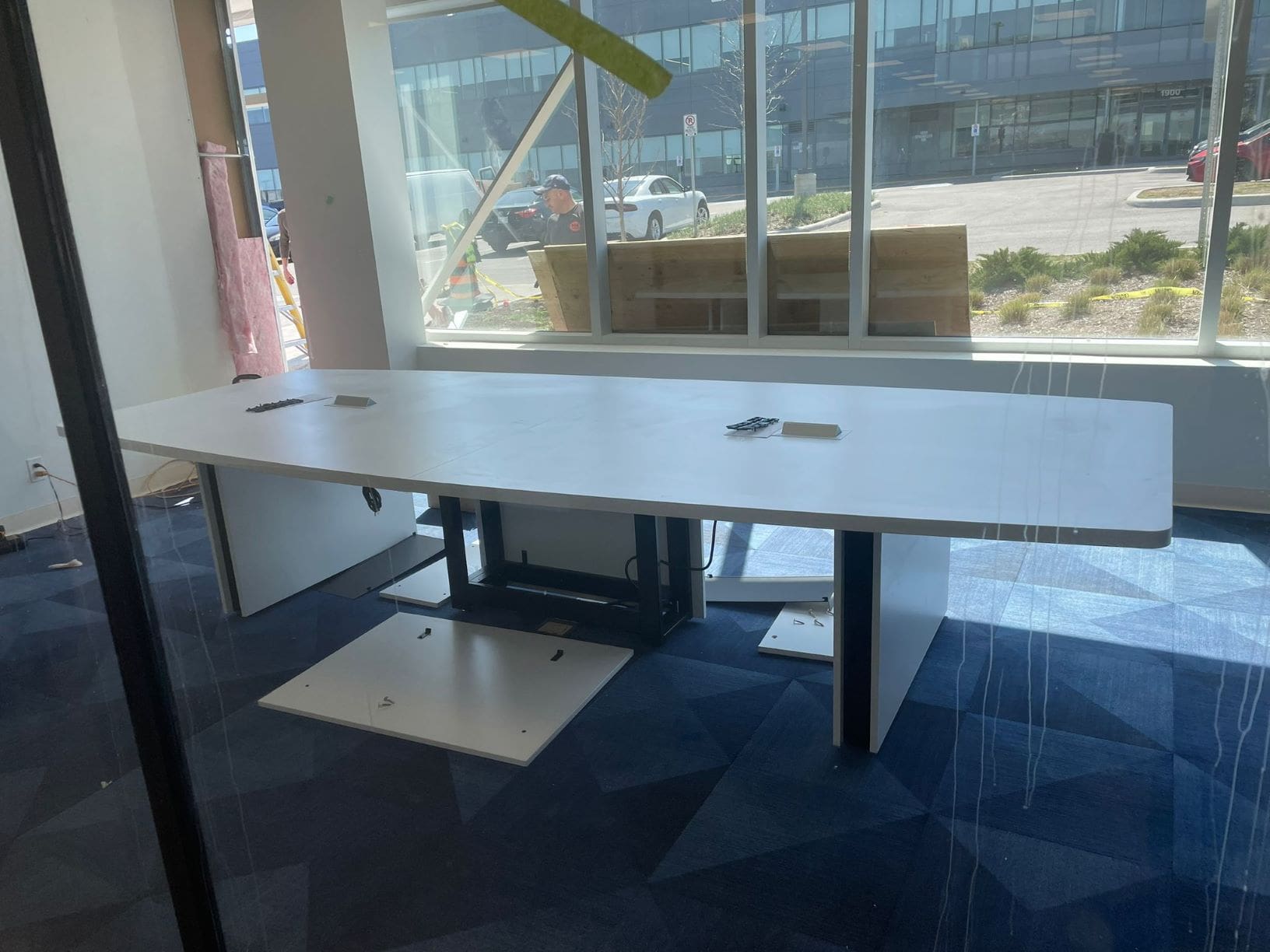 For this project, we partnered with Tayco, a reputable office furniture manufacturer. Given that Tayco's factory is located in Toronto, their in-house installation team managed the delivery and installation process. This partnership ensured a seamless and efficient execution, enabling us to provide the client with exceptional service and quality products.
Through our partnership with Tayco, we successfully delivered and installed a comprehensive office furniture package for our client's Oakville location. Despite being based in Vancouver, BC, our ability to cater to clients with multiple office locations across Canada and the United States sets us apart. The clean and modern aesthetic, coupled with the customized zoom room table, exceeded the client's expectations.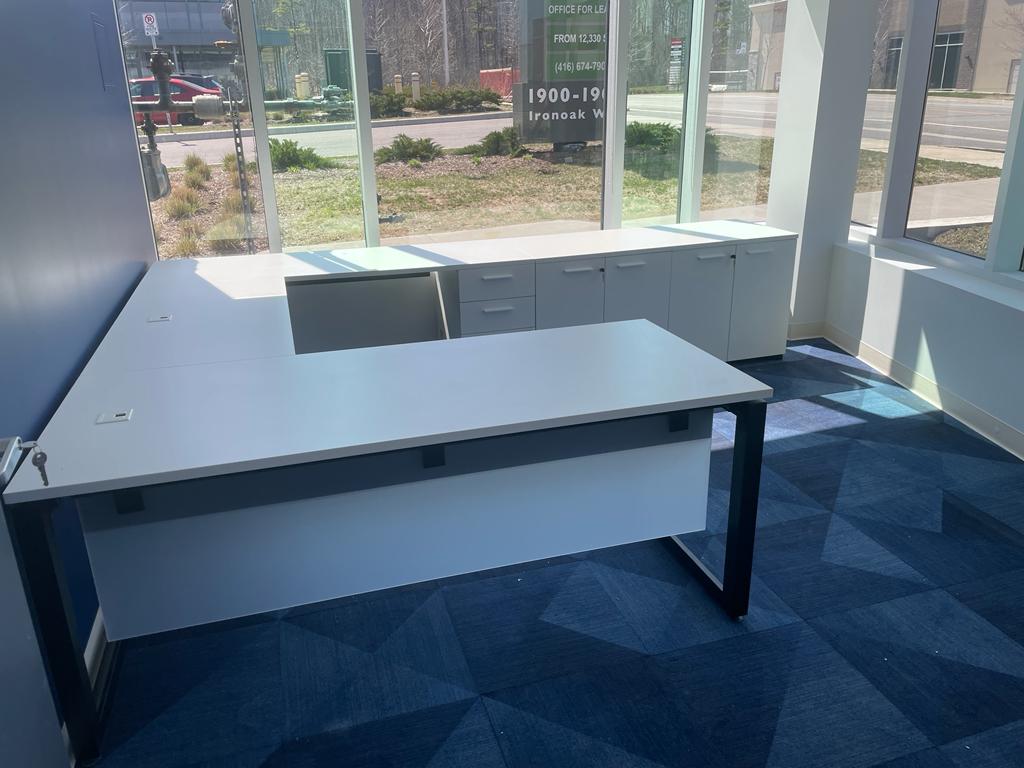 We take pride in our ability to offer tailored office furniture solutions that meet the unique needs and preferences of our clients, regardless of their location.
Looking to optimize your space and select the right furniture?
Count on us for professional guidance!
By consulting with one of our office furniture experts we will ensure you choose the best furniture solution for your specific needs.
Our Latest Articles To Help You With Your Office Furniture Investment.

103 – 8623 Granville St. Vancouver, B.C. V6P 5A2 - By Appointment Only
© 2023. All rights reserved.
Subscribe to get latest furniture blogs & news from us.