Case Study: Office Furniture Expansion for a Leading Aerospace Company in Richmond, BC
Through meticulous space planning, customized workstation solutions, and efficient installation processes, Premier Office Interiors successfully helped an aerospace company in Richmond, BC, expand their office space while optimizing productivity and employee well-being.
This case study highlights the successful implementation of an office furniture expansion project for a prominent aerospace company located in Richmond, BC. The client sought to convert several private offices into an open concept office plan, aiming to accommodate more employees within the existing square footage. Our company provided 42 generously sized panel workstations, complete with multi-function ergonomic task chairs, addressing the client's need for increased capacity and employee comfort.
Challenges in Space Planning
One of the primary challenges encountered during the space planning phase was the presence of pillars throughout the open area. These pillars needed to be factored into the space plan, which posed difficulties in ensuring consistent workstation sizing, maintaining compliance with walkway codes, and accommodating the required number of workstations while avoiding interference with the pillars.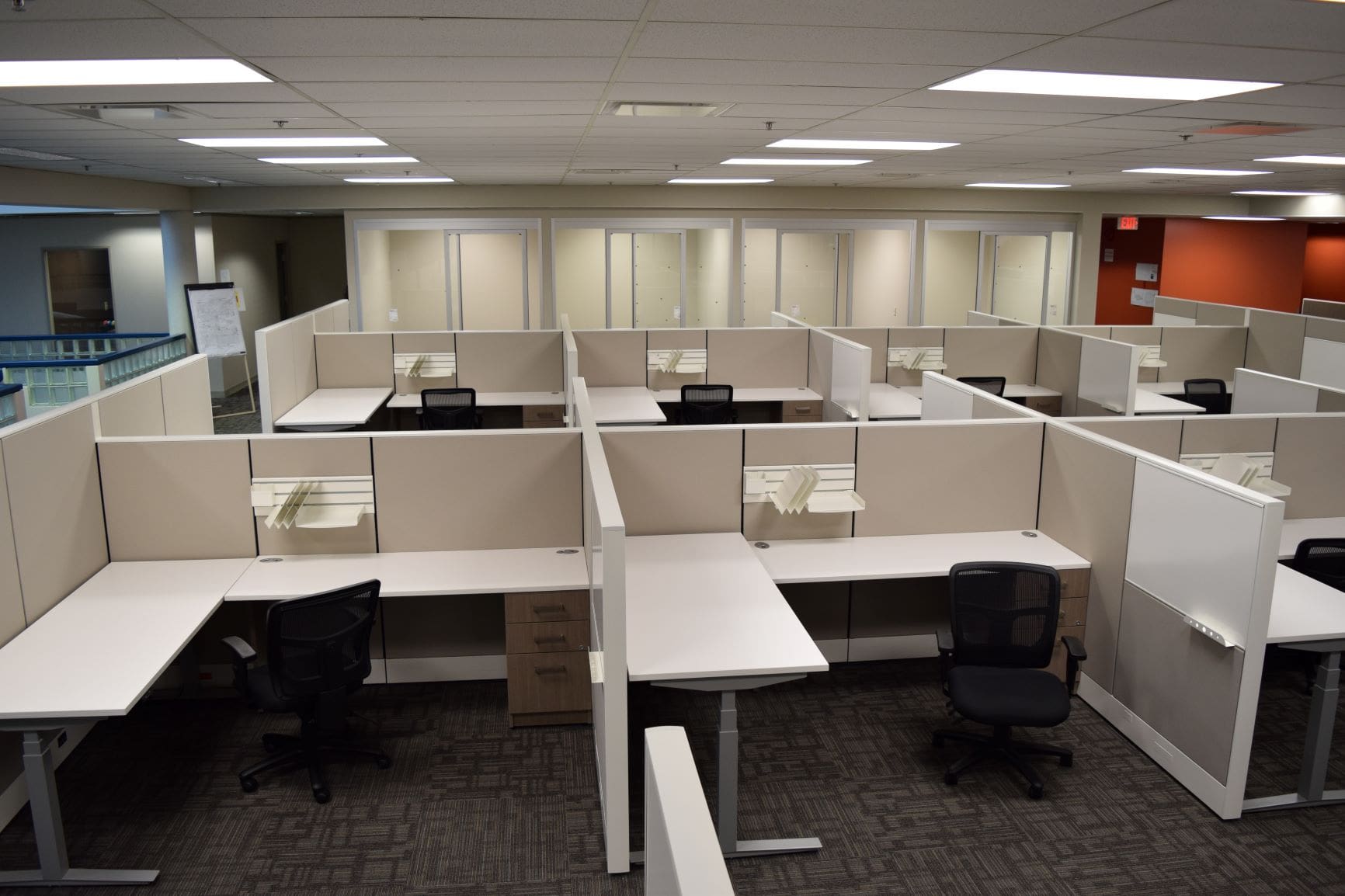 Innovative Design Choices
To meet the client's aesthetic preferences and functional requirements, the client opted for white worksurfaces combined with two-toned wood grain drawer pedestals. Additionally, a modern approach was taken with the panels, utilizing a durable wood grain laminate on the exterior to withstand high traffic areas and a tackable, acoustical fabric on the interior.
The workstation design also incorporated integrated whiteboard options on the divider panels, enhancing productivity and collaboration. Furthermore, the workstations featured electric height-adjustable tables, accessory rails with paper trays, and an integrated electrical system within the panel system, providing each workstation with four plug-ins and two data ports conveniently built into the raceway of the divider panels.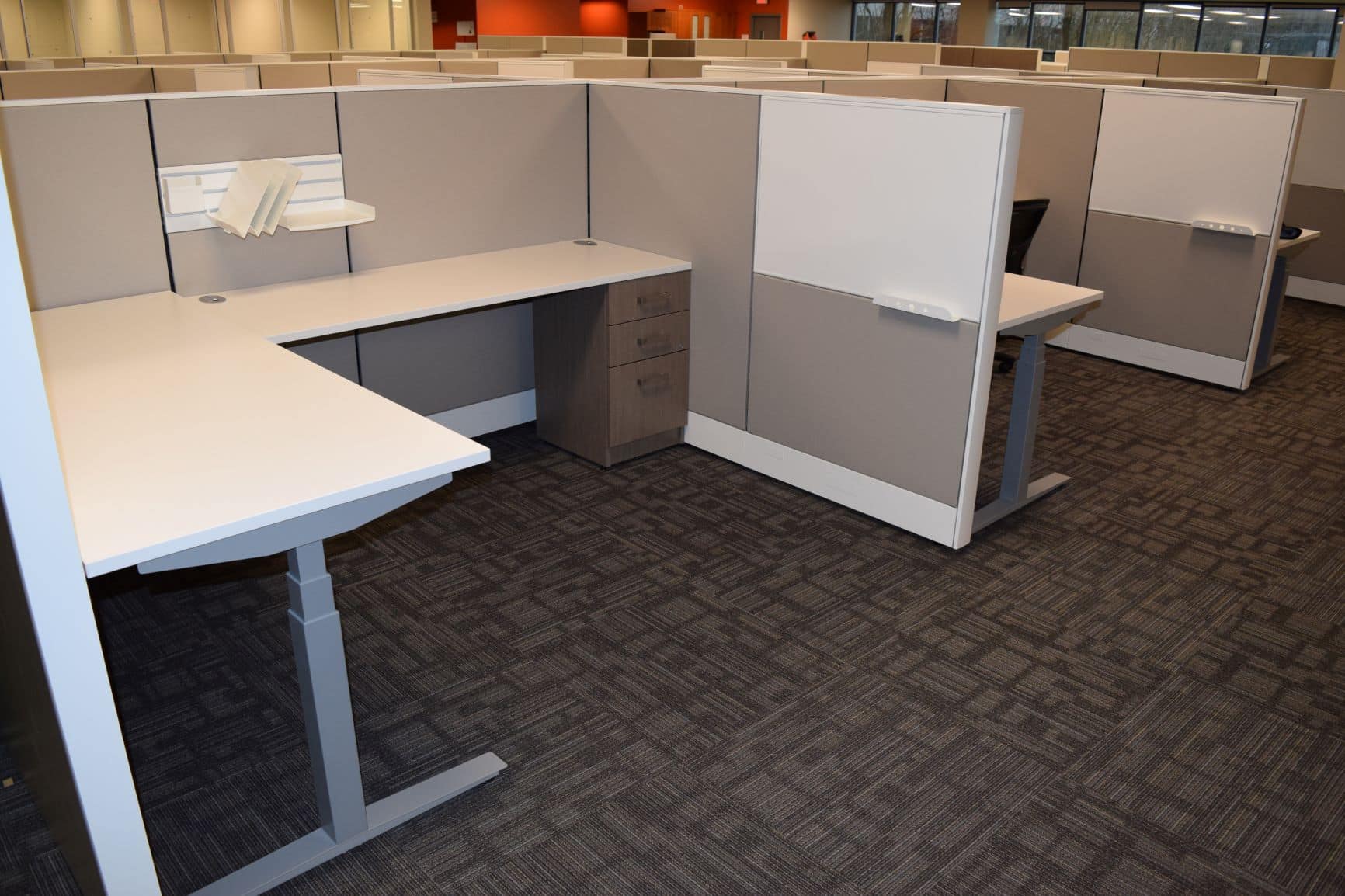 Efficient Installation Process
Our team completed the entire installation, including the disassembly and removal of the client's previous furniture, within a span of one week. This expedited timeline ensured minimal disruption to the client's operations and allowed for a swift transition to the new open concept office environment.
This case study exemplifies how our office furniture solutions transformed the workspace of a prominent aerospace company in Richmond, BC. By overcoming space planning challenges and offering innovative design choices, we successfully delivered a functional, aesthetically pleasing, and highly productive open concept office. Our efficient installation process further underscores our dedication to client satisfaction.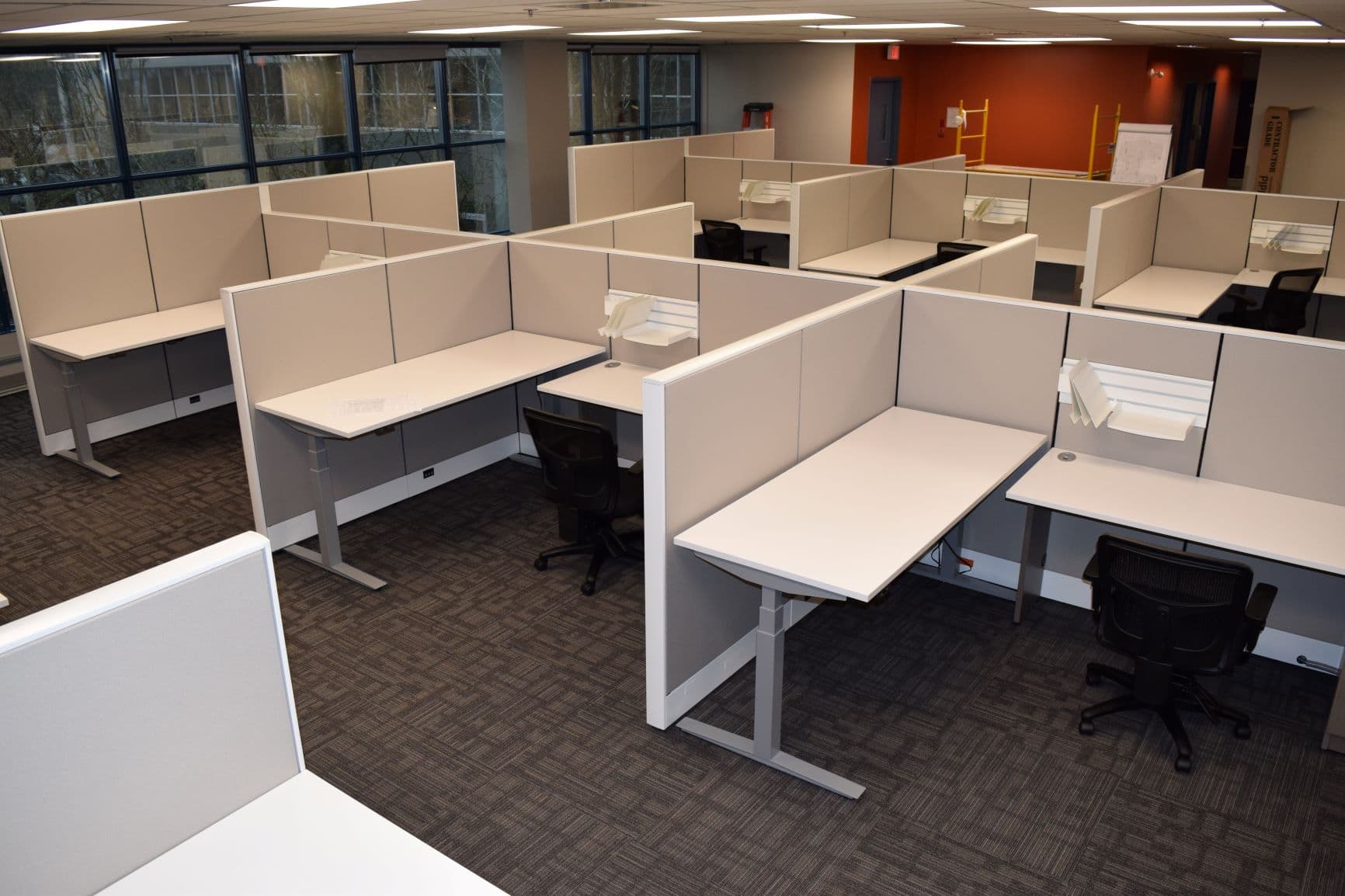 To learn more about our office furniture solutions in Richmond, BC, contact us today.
~ Click through the slideshow to view more images. ~
Looking to optimize your space and select the right furniture?
Count on us for professional guidance!
By consulting with one of our office furniture experts we will ensure you choose the best furniture solution for your specific needs.
Our Latest Articles To Help You With Your Office Furniture Investment.

103 – 8623 Granville St. Vancouver, B.C. V6P 5A2 - By Appointment Only
© 2023. All rights reserved.
Subscribe to get latest furniture blogs & news from us.